Senate race may prove crucial in chamber control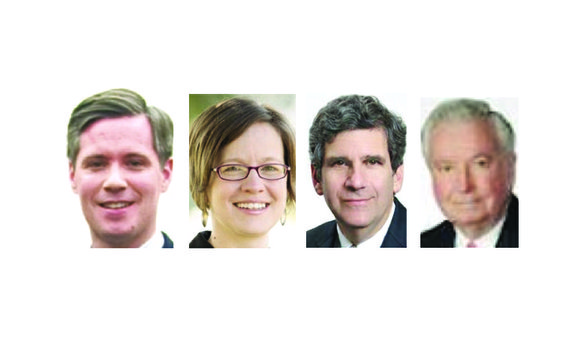 Richmond will be in the center of the high-profile political fight to replace retiring Republican state Sen. John Watkins in the General Assembly.

Both major political parties are expected to go all out to capture the 10th Senate District seat that appears to be the key to control of the closely divided state Senate where Republicans now hold sway.
The GOP already has selected its candidate, Glen H. Sturtevant Jr., an attorney and a member of the Richmond School Board since 2013.

Mr. Sturtevant wrapped up his party's nomination after two other Republicans dropped out — Bruce Tyler, an architect and former Richmond City Council member, and Stephen Thomas, an information technology consultant.
Mr. Sturtevant will take on the Democratic winner of a three-way, June 9 party primary battle for the Richmond-Chesterfield-Powhatan seat that Democrats must win if they are to have a chance to capture the Senate.
The 40-member Senate has 21 Republicans and 19 Democrats. All 40 seats are up for election in November.
The race for the Democratic nod features Emily Francis, a nonprofit consultant on environmental, public health and consumer issues; Daniel A. Gecker, a lawyer and two-term member of the Chesterfield County Board of Supervisors; and Alexander B. McMurtrie Jr., also an attorney and a former member of the House of Delegates.
Political analysts regard Mr. Gecker as the front-runner because he entered the race with the backing of Gov. Terry McAuliffe, Henrico Sen. A. Donald McEachin and the Democratic Senate Caucus that Sen. McEachin chairs.

That support is raising eyebrows among some Democrats given Mr. Gecker's involvement in the mid-1990s attempt to impeach then-President Clinton and promote a book that sought to discredit his wife, Hillary Clinton. The Clintons are close pals of the governor, a former head of the Democratic National Committee. The Clintons attended Gov. McAuliffe's inauguration in January 2014.
In a statement to the Free Press, Mr. Gecker emphatically denied that he pushed the impeachment or supported efforts to undermine Mrs. Clinton.
"I did not advocate for the impeachment of President Clinton," Mr. Gecker wrote, though he acknowledged serving as an attorney for Katherine Willey, a Richmond area resident and former White House volunteer who accused President Clinton of sexual assault during the impeachment uproar and later wrote a book about her life that blasted the Clintons.
Articles from the time, however, show Mr. Gecker was called to testify behind closed doors to a congressional committee considering the impeachment question. Mr. Gecker also is mentioned in "Breach," a book New York Times White House
correspondent Peter Baker wrote about the Clinton impeachment, as having urged a Republican senator to convict President Clinton after his impeachment.
Newspaper articles also appear to belie Mr. Gecker's statement to the Free Press that "I did not market or assist to market Ms. Willey's book."
In a 1998 story published in the Philadelphia Inquirer, a Beverly Hills, Calif., publisher said Mr. Gecker spent two months unsuccessfully trying to persuade him to buy Ms. Willey's book for $300,000. When the book, "Target: Caught in the Crosshairs of Bill and Hillary Clinton," was finally published without his help, Mr. Gecker is quoted in a 2008 Style Weekly article as vouching for Ms. Willey's claims about former President Clinton and Mrs. Clinton as truthful.