Former UR player Justin Rogers hopes to secure Washington's No. 25 jersey
8/13/2015, 2:47 p.m.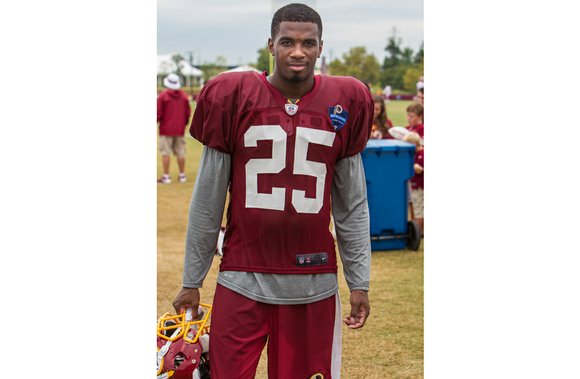 Justin Rogers wants his face on the nickel.
No, not the five-cent piece jingling in your pocket, but the Washington defensive backfield type of nickel.
The nickel back — a fifth defensive back — has become almost as popular a term as "hail Mary" and "sack dance" in NFL lingo.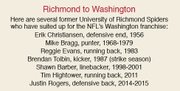 Traditionally, NFL teams used four defensive backs — two corners and two safeties.
But according to Pro Football Focus game tracking, nickel backs were used on 57 percent of plays in 2014 to combat ever-increasing spread attacks.
A fifth-year pro out of the University of Richmond, Rogers began practice with the Washington NFL team at the Richmond Bon Secours Training Center with little ado.
In fact, he is one of two players assigned jersey No. 25. The other is rookie Chris Thompson.
Receiving duplicate numbers is not a confidence booster. Think how unimaginable it would be to see duplicates of Robert Griffin's No. 10 or DeSean Jackson's No. 11 roaming the premises.
After the humble start, Rogers' stock rose in a flash July 31 when Bashaud Breeland, incumbent nickel, sprained his right medial collateral ligament. He figures to miss about six weeks for rehabilitation.
Also, Breeland must sit out the first game this season because he was cited in August 2014 by Virginia Commonwealth University Police with marijuana possession.
Until Breeland's return, Washington needs a No. 1 nickel and Rogers — previously listed No. 2 on the depth chart — gains status under defensive backs Coach Perry Fewell.
"Justin is a man of few words, but he is very consistent, very professional," said Coach Fewell.
"You need someone very savvy there (at nickel) because you have to make quick decisions and you have to be able to cover, tackle and even blitz."
The 5-foot-11, 181-pound Rogers, from Baton Rouge, La., earned All-Colonial and All-America honors at UR as a cornerback (12 interceptions, three for touchdowns) and ace kickoff returner (school record 2,561 yards, two touchdowns).
He was a seventh-round draft pick in 2011 by Buffalo, where he became a "Buffalo nickel." 
Rogers played two seasons in Buffalo with seven starts, recording 64 tackles, 14 pass break-ups and three interceptions.
He was with the Bills in 2011 and 2012, then bounced around between Miami, Houston and Kansas City before arriving in Washington late last season.
Rogers observed Breeland for the final three games of 2014. Now it's his turn.
"We were thinking of Justin as a role player, but now he's getting to play with the ones," said Coach Fewell of the first-team defense.
Operating the nickel, says Rogers, "requires sharp thinking, quick thinking"
"It all happens so fast you have to be tuned in to where your help is. You're working with the linebackers and the safeties … have to guard a lot of short throws … and be ready to make tackles," he said.
The nickel back "inventor" is said to be former Philadelphia defensive coordinator Jerry Williams, who inserted a fifth defender in 1960 to counter Chicago tight end Mike Ditka. It was a novelty then. It's common now.