Straight Outta Compton' box office hit rakes in $60.2M over weekend debut
Free Press wire reports | 8/20/2015, 10:06 p.m. | Updated on 8/20/2015, 10:30 p.m.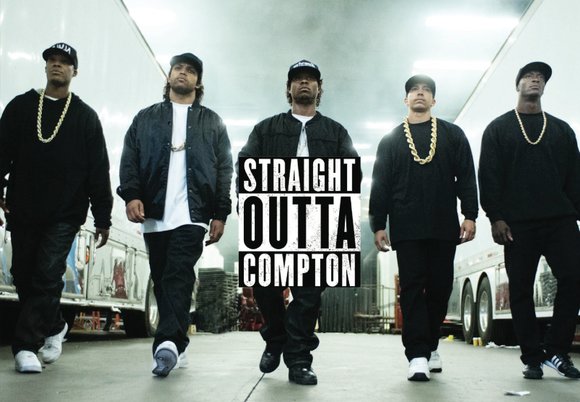 "Straight Outta Compton," the N.W.A. biopic produced by Ice Cube and Dr. Dre, blew away industry expectations over the weekend with a $60.2 million debut.
It surpassed "American Pie 2" to become the biggest ever August debut for an R-rated movie, with indications that the film could be among the most profitable releases of the summer.
The film played in 2,757 theaters across the nation, grossing more than the $56.1 million estimated on Sunday. Co-financed by Universal Pictures and Legendary Pictures for just $29 million, it was propelled by excitement stirred up by the film's trailer, savvy digital marketing, strong reviews and the same kind of audacity that made N.W.A. famous.
Before Universal jumped in, Warner Bros. passed on "Straight Outta Compton," in part because of the project's riskiness. Those concerns earlier appeared to be justified. Marion "Suge" Knight, who's portrayed in the film, is awaiting trial for allegedly running over two men in January after an altercation with Cle "Bone" Sloan, a technical adviser on the movie.
There were also fears of violence at theaters, particularly after several shootings at movie theaters in recent months. Universal helped some theaters pay for extra security, but no violence materialized.
What did materialize was a diverse audience of a mainstream hit. According to Universal, the film, which starts Corey Hawkins as Dr. Dre, O'Shea Jackson Jr. as his father Ice Cube and Jason Mitchell as Eazy-E was 46 percent African-American, 23 percent Caucasian, 21 percent Hispanic and 4 percent Asian. The weekend's opening crowd was 52 percent female and 51 percent of those purchasing tickets were under the age of 30.
Nick Carpou, Universal's domestic distribution chief, labeled the film "a labor of love" that benefited from being dramatically different from the kind of films flooding cinemas in recent months.
"The public was ready for something with a bit more substance that they could identify with," he said.