Pope Francis spreads message of love, peace in Africa
12/5/2015, 5:15 a.m.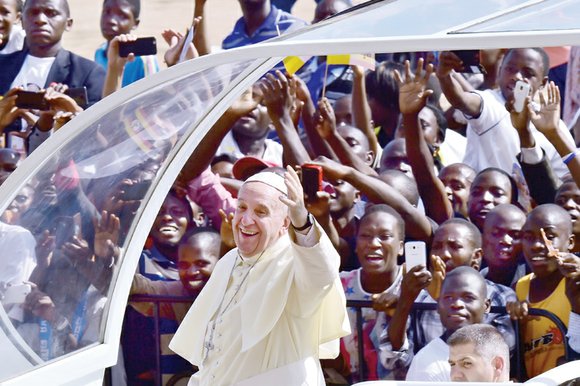 Religion News Services
KAMPALA, Uganda
Pope Francis wrapped up his six-day trip to Africa in the war-torn Central Africa Republic on Monday by warning that religious conflicts are spawning civil war, terrorism and suffering throughout the continent.
"Together we must say no to hatred, to revenge and to violence, especially violence perpetrated in the name of a religion or of God himself," the pope said in Bangui, the capital.
"Together, we must say no to hatred, to revenge and to violence, particularly that violence which is perpetrated in the name of a religion or of God himself. God is peace, 'salaam,' " the pope said, using the Arabic word for peace.
Under heavy security, the pope celebrated a Mass at a stadium in Bangui and visited the Koudoukou mosque in a violence-riddled neighborhood where Bangui's Muslims have been unable to leave for months because armed Christian militia fighters have surrounded it.
Pope Francis spoke about the violence between Christians and Muslims that erupted when rebels ousted the Central African Republic's president three years ago — and continues to divide the country. Around 6,000 have died in the fighting, and thousands have been displaced.
Despite the security risks, the pope traveled in an open-air vehicle and received an exuberant welcome. "I want to thank him because he has preached peace," said Nasra Yamashia, a mother of five who lives in the St. Joseph Mukasa refugee camp outside Bangui.
A Muslim, Ms. Yamashia lost her husband to Christian so-called Anti-balaka fighters who emerged after Islamic forces ousted the Central African Republic's president.
"We have lived in fear for many years, and I hope his visit will bring a lasting peace to our people. The fighters should also value the life of people and stop killings," she said.
Pope Francis' remarks dovetailed with themes he sounded at the outset of his trip in Kenya last week.
"Tribalism. It can destroy. It can mean having your hands hidden behind your back and having a stone in each hand to throw to others," the pope told a group of Catholic youths in Nairobi on Friday. "Kenya is a young and vibrant nation. Cohesion, integration, and tolerance toward other people must be a primary goal."
Love, he preached, was the antidote to the hatreds that tribalism and sectarianism can unleash.
"You can ask yourself: Is this the path to destruction or is it an opportunity to overcome this challenge for me, my family and as a member of this country," asked Pope Francis. "We don't live in heaven, we live on Earth and Earth is full of difficulties. You have the capacity to choose which path you want to follow, the path of opportunity or of division."
He also called for governments to distribute wealth in a socially responsible manner that curbs, rather than exacerbates, divisions between people.
"I encourage you to work with integrity and transparency for the common good, and to foster a spirit of solidarity at every level of society," he said, speaking in the elegant surroundings of the State House, the Kenyan president's official residence.