Butler gives Patriots a super win
Fred Jeter | 2/6/2015, 11:02 a.m.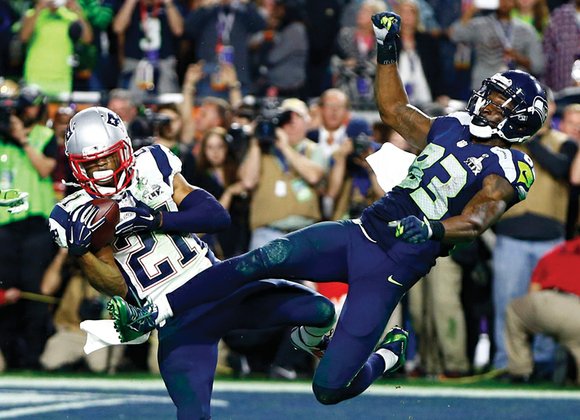 Malcolm Butler ranks among the most unlikely heroes in Super Bowl history.
In 2010, Butler had been suspended from college and was working part time at Popeyes Louisiana Kitchen chicken restaurant in his hometown of Vicksburg, Miss.
From that humble point, he has become the toast of New England and Patriots fans everywhere.
Butler's end zone interception of Seahawks quarterback Russell Wilson's pass with 20 seconds left enabled the Patriots to defeat the Seattle Seahawks 28-24 in Super Bowl XLIX in Glendale, Ariz.
Butler's first NFL interception may become the most talked-about pick in NFL annals, turning what looked like a probable loss for the Patriots into a jaw-dropping victory.
Some background:
Butler played part of the 2009 football season at Hinds Community College near Jackson, Miss., before being discharged from the team.
He spent 2010 working at Popeyes while trying to regain his eligibility at Hinds — a school whose alumni include singer Faith Hill, current Mississippi Gov. Phil Bryant and a host of NFL players, including Leon Lett, Fred Smoot and Anquan Boldin.
Butler returned to Hinds in 2011, played admirably and transferred to Division II University of West Alabama, where he was a standout in 2012 and 2013.
Undrafted, Butler signed with the Patriots last summer as a free agent. This season, he had played in just 190 defensive snaps leading up to the Super Bowl.
On the pre-game depth chart, Butler was a regular on special teams but is listed as a third-string cornerback.
Who could have predicted the former fast food restaurant employee would figure into the biggest play in the biggest game of the season.
On second and goal from the 1 yard line, Wilson tried to hit receiver Ricardo Lockette on a crossing pattern. Instinctively, Butler stepped in, picking off the pass and returning it to the 2 yard line.
One play later, New England was Super Bowl champ and NBC sideline reporter Michele Tafoya was chasing Butler down — literally — for post- game comments.
"I had a vision I would make a big play," he told Tafoya.
Later in the press room, he said:
"I'm pretty sure he (Wilson) knows I'm a rookie and who wouldn't try a rookie. I was ready."
Even Popeye himself, after a can of spinach, couldn't have done more.