Wilson resilient after heartbreaking loss in Super Bowl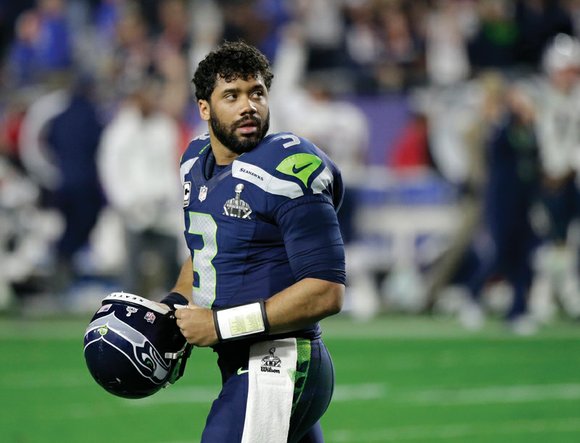 GLENDALE, Ariz.
Less than 36 inches separated former Richmonder Russell Wilson and his Seattle Seahawks teammates from their second consecutiveSuper Bowl title and talk of a dynasty.
Anticipation was high that Seahawks coach Pete Carroll would call on bulldozing running back Marshawn Lynch to plow the ball into the end zone on second-and-goal with 26 seconds to play and one timeout left in Super Bowl XLIX.
Already, in this game against the New England Patriots, Lynch had logged a total of 102 yards for the game, including an earlier touchdown.
Instead, in what many pundits are calling one of the worst play calls in NFL history, Seahawks offensive coordinator Darrell Bevell called for Wilson to deliver a risky quick slant pass to receiver Ricardo Lockette, who would break across the field into the end zone from the right side.
Wilson, a standout at Richmond's Collegiate School, took the snap, stepped forward and rifled a pass just high and to the right of the speeding Lockette. But rookie Patriots cornerback Malcolm Butler leaped in to intercept the pass.
The sensational play secured the Patriots' 28-24 win before a worldwide television audience of about 185 million people and clinched the fourth Super Bowl title in 14 years for New England quarterback Tom Brady and coach Bill Belichick.
Seattle's coach Carroll defended the call as the right one to make because New England had stacked the defensive line in anticipating a running play.
"We were going to run the ball to win the game — just not on that play," Carroll said.
Wilson, showing the class that has earned him acclaim, refused to pin the blame on anyone else.
"I put the blame on me — I'm the one who threw it," he said. "It's something you learn from, it's something you grow from."
Wilson had connected with receiver Jermaine Kearse on a falling, juggling, bouncing reception on his back for a 33-yard gain that set up first-and-goal from the 5-yard line with 66 seconds to go.
"I'm proud of our guys about the way we got down the field there in that situation," Wilson said. "We had so many great plays, and we're right there."
Brady shook off two interceptions to throw four touchdown passes, including the 3-yard game winner to Julian Edelman with 2:02 left, as the Patriots erased a 24-14 fourth-quarter deficit.
"It was a lot of mental toughness," said Brady, who was named the Super Bowl's Most Valuable Player and tied Joe Montana and Terry Bradshaw as quarterbacks with four Super Bowl wins. "Our team has had it all year. We never doubted each other, so that's what it took."
Despite Seattle's heartbreaking loss, the future is bright for the resilient Wilson, who vowed to bounce back and work harder to win another Super Bowl.
He's expected to gain a handsome pay raise in the offseason as he prepares to enter his fourth NFL season.
"Every setback has a major comeback," he tweeted early Monday morning.
Later, he posted, "At 26 years old I won't allow 1 play or 1 moment define my career. I will keep evolving. #Motivation"
He also posted on Instagram before-and-after photos of the haircut and shave he received Monday after the Super Bowl loss. He had not shaved or had a haircut during the team's playoff run to the Super Bowl.
Wilson also announced he will visit the Texas Rangers pro baseball training camp this spring to work out with the team again. He made a brief appearance there last March.
Wilson played two summers with the Colorado Rockies' Class-A minor-league baseball team in 2010 and 2011 after he was drafted.