Williams sisters advance at Wimbledon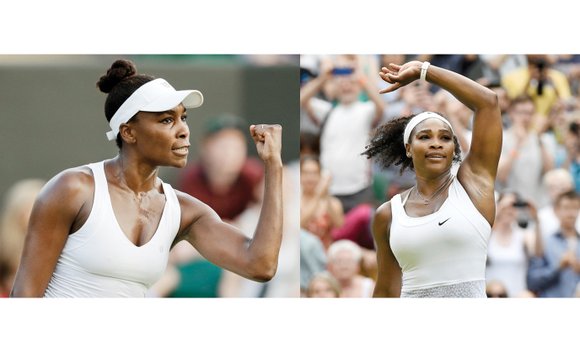 LONDON
Superstar sisters Serena and Venus Williams are one win away from facing off against each other in the Wimbledon tennis tournament in London.
They advanced to the third round Wednesday with straight-set wins.
Serena, 33, dispatched Timea Babos of Hungary 6-4, 6-1. Venus, 35, edged Yulia Putinseva of Russia 7-6, 6-4.
Both are scheduled to play again Friday and will face off against each other in the fourth round Monday if they are victorious in the matches that are broadcast on the ESPN TV network.
Meanwhile, the Williams' sisters have withdrawn from doubles competition at Wimbledon for the second consecutive year.
Serena, ranked No. 1 in the world and at Wimbledon, said she withdrew to concentrate on winning the singles title. She is seeking her sixth Wimbledon championship.
"I've always loved playing doubles with Venus, particularly here at Wimbledon where we've had so much success over the years," Serena said. "And so I'm really sorry to have to withdraw this year."
The Williams sisters have won the women's doubles title five times — in 2000, 2002, 2008, 2009 and 2012.
They abandoned their second-round match last year after Serena fell ill and could not compete.
After already winning the U.S., Australian and French Open grand slam titles in the past year, Serena is looking to win Wimbledon to complete the "Serena Slam" to hold all four major titles at the same time.
"I would never have expected at this time in my career to win three grand slams in row. This for me is unbelievable," Serena said after winning her 20th major at the French Open in early June. "I've got a Serena Slam and I'm close to another."
Serena won her first round match 6-4, 6-1 Monday against unseeded foe Margarita Gasparyan of Russia. Venus romped 6-0, 6-0 over American Madison Brengle in her first round match.