40 years later
Ashe's shining win at Wimbledon
Fred Jeter | 7/9/2015, 4:26 p.m. | Updated on 7/9/2015, 4:26 p.m.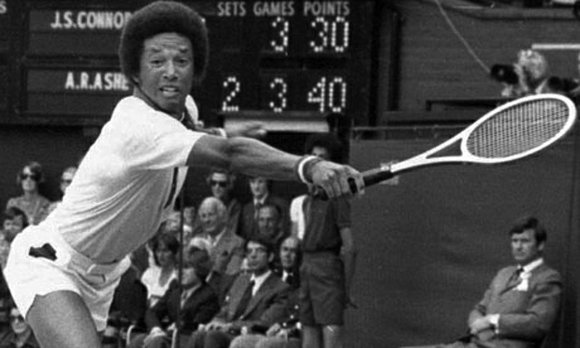 The late Arthur Ashe Jr.'s iconic tennis career reached a summit 40 years ago on the pristine grass of Centre Court at the All-England Lawn Tennis & Croquet Club in London.
The occasion was the 89th staging of the Wimbledon tennis championships. And on this Fourth of July weekend in 1975, the Richmonder — just a week from his 32nd birthday — stunned tempestuous, heavily favored defending champion Jimmy Connors in a tense final.
By ousting Connors, his longtime nemesis, Ashe became the first black man to win the men's singles championship at Wimbledon.
Previously, Ashe was the first African-American selected to the U.S. Davis Cup team in 1963. He went on to become the first black man to win the U.S. Open championship in 1968, then as an amateur. And he was the first black person to win the Australian Open in 1970.
Wimbledon would be the third and final Grand Slam title for the amazing athlete who grew up swinging a racquet at Richmond's segregated Brookfield Park under mentor Ron Charity, then a Virginia Union University student.
He later honed his considerable talent under the tutelage of Coach Robert Walter Johnson in Lynchburg. He went on to star at UCLA before launching his pro career in 1970.
The 1975 Wimbledon — one of four stops on the Grand Slam circuit — was oozing with drama.
An underdog, Ashe entered the event seeded No. 6 and needed to defeat Bjorn Borg and Tony Roche to reach the finals.
Southpaw Connors was 6-0 previously against Ashe, never having dropped a set to the former Maggie Walker High School student.
Connors, with his "bad boy" image, was the antithesis of Ashe. Connors was known almost as much for his acrimonious relationships with peers and lack of respect for officials as for his off-the-charts talent. From 1974 to 1978, with a villainous image, Connors was the world's No. 1 ranked player.
In 1974, Connors was 99-4 and won 15 tournaments.
The Ashe vs. Connors title match at Wimbledon became personal because Connors earlier had sued both the Association of Tennis Professionals (ATP) and Ashe, who was ATP president.
Connors alleged "restraint of trade" after being denied by ATP entry into the 1974 French Open because of his decision to play with the Baltimore Banners of the maverick World Team Tennis (WTT).
There was more.
Connors boycotted the 1972 U.S. Davis Cup, demanding, in vain, that team captain Dennis Ralston be fired.
That resulted in Ashe, who proudly played on U.S. Davis Cup victories in 1963, 1968, 1969 and 1970, writing a letter to the ATP accusing Connors of being "unpatriotic."
That letter was delivered by Ashe prior to becoming ATP president in 1974.
Connors' suit against Ashe, though later dropped, was still on the table when the two rivals met on tennis' brightest stage at Wimbledon in 1975.    
Ashe seized the moment.
It was not by accident he was introduced at Centre Court in his bright Davis Cup jacket, or that he wore red, white and blue wristbands.
Once the match began, Ashe offset the 23-year-old Connors' prodigious power with precision. Employing a flawless tactical strategy, Ashe frustrated his harder-hitting foe and prevailed in four lesson-teaching sets, 6-1, 6-1, 5-7 and 6-1.
When it was over, on a hot day, Ashe donned his Davis Cup jacket to be presented the trophy and first place check of $23,000.
In his own tasteful manner, Ashe made his point minus any harsh words or outward display of contempt.
Since then, there has been only one other black male champion at a Grand Slam event. That was Frenchman Yannick Noah, who won the 1983 French Open.
In his illustrious pro career from 1970 to 1980, the son of Arthur Ashe Sr. and Mattie Cordell Cunningham Ashe of Richmond won 818 matches, 35 tournaments and was ranked No. 1 in the world in 1968.
Combining uncommon levels of skill and graciousness, he was cheered worldwide, but never more enthusiastically than in 1975 in London.