Leroux shines on U.S. women's soccer team
Fred Jeter | 6/12/2015, 9:29 a.m. | Updated on 6/12/2015, 12:01 p.m.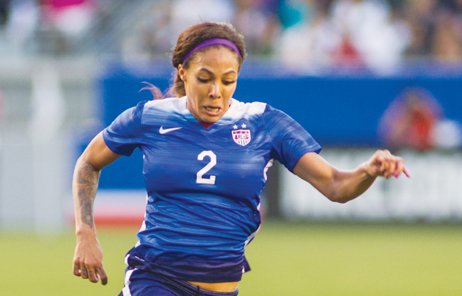 Talent plus controversy equals Sydney Leroux.
The 25-year-old striker figures heavily into the main plot — and subplot — for this year's Women's World Cup soccer tournament.
Leroux was born in British Columbia, Canada, near Vancouver, in 1990.
The plot thickens when you learn she will be playing for Team USA in the No. 2 jersey in what is the world's most watched soccer event for women.
Leroux, the daughter of former Major League Baseball pitcher Ray Chadwick, moved from Canada to the United States in 2004. She has dual U.S.-Canadian citizenship.
Since 2008, she has chosen to play on U.S. National teams, a fact that has raised the ire of some Canadians.
What heightens the drama is that this year's World Cup is being held in Canada, with the July 5 finals slated for her hometown of Vancouver, at BC Place.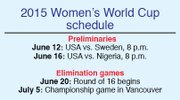 Some Canadians, recalling advantages awarded Leroux on Canadian age-group National Teams, harbor some ill feelings.
She was booed during a 2013 match in Toronto in which she scored a decisive goal against Canada.
Her reaction was to pinch the U.S. crest on her shirt and to put her finger to her lips in the international signal for "shhhh."
During a 2012 World Cup qualifying match in Vancouver, Leroux scored five goals in a victory over Guatemala.
From the bleachers, she heard comments such as "traitor," "Judas," and "Go back to the U.S."
She is prepared for more north of the border negativity as the U.S. team, ranked second in the world behind Germany, launches what figures to be a serious run at its first World Cup crown since 1999.
And how will she react?
"I feel like that would be the worst thing to do — to make me feel bad — because that will only make me hungrier," she told The Salt-Lake Tribune.
Already, the U.S. team beat Australia 3-1 Monday night in the first of three preliminary games. The next game will be Friday against Sweden.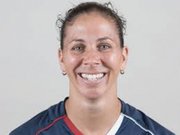 Leroux has been a prolific goal scorer on all levels.
She was an All-America forward at UCLA before launching a successful professional career. Currently, she is on the roster of the Seattle Reign FC.
"Syd the Kid," as she is called, has 33 goals and 10 assists in 64 games for U.S. National Teams. In a 2013 game against Mexico, she recorded a hat trick — three goals — in a 9-minute span.
In May 2014, she had two goals in a match against Mexico.
Between 2008 and 2010, she had 24 goals in 39 international appearances for the U.S. 20-and-under Nationals.
Leroux is the daughter of a Canadian mother, Sandi Leroux, a former member of the Canadian national softball team, and Chadwick, a native of Durham, N.C., who starred at Winston-Salem State University before going pro.
Chadwick pitched professionally from 1983 to 1990 and had a brief appearance with the California Angels in 1986. He had minor league stints in Edmonton in 1985 and 1986, and in Vancouver in 1988 and 1989.
Sydney inherited athletic ability from both parents and is not shy around a camera. Her endorsements so far include Nike, Nestle Nesquick and BODYARMOR.
She dated Houston Texans football star J.J. Watt and, to the surprise of many, wed English soccer player Dom Dwyer this past January in a private ceremony.
She was the subject of an ESPN feature, "Living the Dream," and appeared nude in ESPN's 2013 "The Body Issue."
Heavily tattooed, she is one of four U.S. teammates on the cover of Sports Illustrated June 8 edition.
The other African-American player on the U.S. team is 37-year-old veteran defensive midfielder Shannon Boxx.
The native Californian and former University of Notre Dame standout was on the U.S. gold medal soccer teams at the 2004, 2008 and 2012 Olympics. Boxx also was a member of the 2003, 2007 and 2011 World Cup squads.