David M. Hicks to be sworn in June 30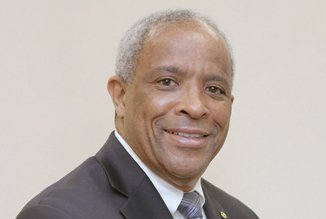 David M. Hicks will soon don the robes of his new office — a judge of the Richmond General District Court.

After nearly seven years as Mayor Dwight C. Jones' top policy adviser, Mr. Hicks is to be sworn in as a judge on Tuesday, June 30, it has been announced.
The investiture ceremony, hosted by the city's Circuit Court judges, is scheduled for 4 p.m. in courtroom 204 on the second floor of the John Marshall Courts Building, a stone's throw from his City Hall office.
The General Assembly elected Mr. Hicks as a city judge earlier this year. He officially begins his new role Wednesday, July 1, as one of the six general district court judges.
Mr. Hicks is still formally employed by the city. However, an official said he is now using vacation time and is unlikely to be in the office before he goes on the bench.
Besides advising the mayor, he led the overhaul of the Juvenile Detention Center and the Department of Social Services during his tenure with the city.
A former Richmond commonwealth's attorney, Mr. Hicks will replace Judge Phillip L. Hairston, who is moving up to the Richmond Circuit Court bench on July 1. He will join six other sitting judges on that court.
The General Assembly elected Judge Hairston to succeed Melvin R. Hughes, who retired in February after reaching the mandatory retirement age of 70.
Ironically, the legislature also voted to raise the mandatory retirement age to 73 during its last session. Judge Hughes has been hearing cases during the spring to fill in until Judge Hairston is seated on the higher court.