Crutcher hailed as new UR president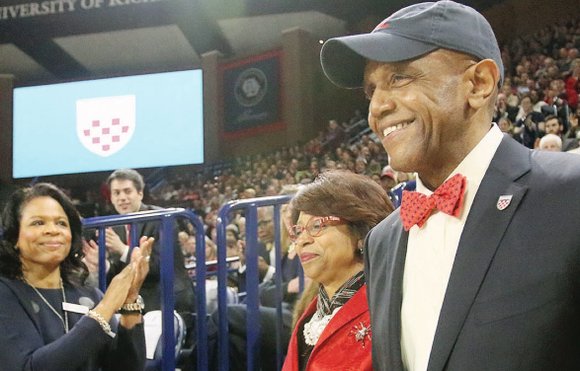 The historic nature of the appointment of Dr.Ronald A. Crutcher as the next president of the University of Richmond was not lost on people attending last Friday's public ceremony at the Robins Center to welcome him to campus.
Dr. Crutcher, accompanied by his wife, Dr. Betty Neal Crutcher, and their adult daughter, Sara, received a standing ovation from the audience of about 1,500.
The Cincinnati native, renowned classical cellist and president emeritus of Wheaton College in Massachusetts is the 10th president and the first African-American selected to lead the private, liberal arts university, which was founded in 1830.
He will succeed current President Edward L. Ayers on July 1.
Several African-Americans in the audience hailed Dr. Crutcher's appointment as a significant step forward for diversity at the university, where about 9 percent of the students are African-American and only 20 of the institution's 400 full-time faculty are African-American.
"The fact that he's African-American and the first to hold that position is significant, but it's also not surprising," said Dr. Alvin J. Schexnider, who served on the faculty with Dr. Crutcher at the University of North Carolina at Greensboro in the 1980s.
"This is an extraordinarily good fit for the university and for Dr. Crutcher. It's exciting to see this confluence of events at this stage in the university's history," he said.
"He's exceptionally well prepared for this job. He's a solid academician and outstanding leader. The University of Richmond is fortunate to have him," added Dr. Schexnider, who formerly served as president of Thomas Nelson Community College, interim president of Norfolk State University and chancellor of Winston- Salem State University. He now has a management consulting firm in Chesapeake.
"As we celebrate Black History Month, it's even another treat to have a leader in higher education bring more diversity to the university," said former astronaut Leland Melvin, a UR alumnus and member of the university's Board of Trustees.
"It's a celebratory moment for the university. To have the first African-American president-elect, it opens up doors across the board for more opportunities for diversity," said Lindsey King, a Hampton University graduate and member of UR's communications office since 2011.
Mary Allen, a junior majoring in sociology at UR and graduate of Richmond Community High School, said, "As an African- American, it's very exciting to me. I believe he'll bring great leadership to the school, and I'm excited he's a music professor. I think he'll bring a lot to the university in that capacity."
Patricia L. Rowland, the rector of the board of trustees, in- troduced Dr. Crutcher as committed to "advancing diversity in its many forms" and praised him as someone who "would build upon Richmond's remarkable foundation."
Wearing a mile-wide smile, Dr. Crutcher strode to the podium in a blue UR ball cap and red Spider bow tie. He was celebrating his 68th birthday last Friday as well.
"The University of Richmond represents the very best that American higher education has to offer," Dr. Crutcher said during remarks lasting 10 minutes.
He said he was drawn out of retirement to UR, which has about 1,600 undergraduate students, because of its "commitment to academic excellence" and because "this is a place that is deeply committed to opportunity, to providing access to the most talented young people regardless of their background or their financial circumstances."