3 receive scholarships in Jail-VCU program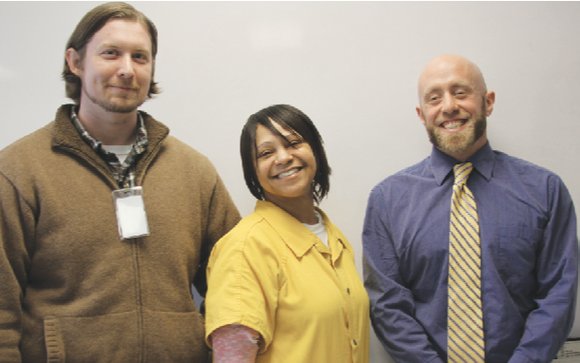 Three current and former inmates at the Richmond Justice Center have won the first scholarships awarded through the city jail's unique college programs.
Christian Brackett, Pinetta Fleming and William "Billy" Scruggs were awarded scholarships for a class at Virginia Commonwealth University, which partners with the jail in a college-level program called Open Minds.
Mr. Brackett and Mr. Scruggs have been released; Ms. Fleming is completing her sentence. The trio also completed at least one college class at the jail.
The scholarship covers the cost of tuition, fees and books for one three-credit course at VCU after release, with the aim to encourage the winners to go on to earn a degree.
"Not only are we making history with these scholarships, but we are making futures," said Sheriff C.T. Woody Jr. at a Feb. 25 ceremony. VCU Dean James Coleman joined in presenting the scholarships.
The scholarships are named for John Patrick Dooley, the late father of John David Dooley, who has taught and led the jail's education programs for 36 years. Both are VCU alumni.
Mr. Dooley, among other things, leads the jail's adult basic education and GED programs. The GED program has enabled 2,200 inmates to earn their high school equivalency certificate since 1973.
In recent years, Mr. Dooley, with the sheriff's support, has added college courses through Open Minds and Virginia Union University's Inside Out Program.

In each program, faculty teach a class inside the jail that includes students from their respective school as well as inmates.
Open Minds was started in 2011 with a VCU grant.
Mr. Dooley and Dr. David Coogan, an associate professor of English, co-administer Open Minds.
Dr. Coogan offered the first courses, but has now been joined by several other faculty members in the program.
This semester marks the 20th class to be offered through either the VCU or VUU program.
Each class includes about 10 to 15 college students and an equal number of inmates, according to Sarah H. Scarbrough, the jail's internal program director.
The program, she said, is among ways the jail seeks to reduce the number of people who return to jail.