Hampton takes on No.1 Kentucky in NCAA
Fred Jeter | 3/20/2015, 3:33 p.m. | Updated on 3/20/2015, 3:33 p.m.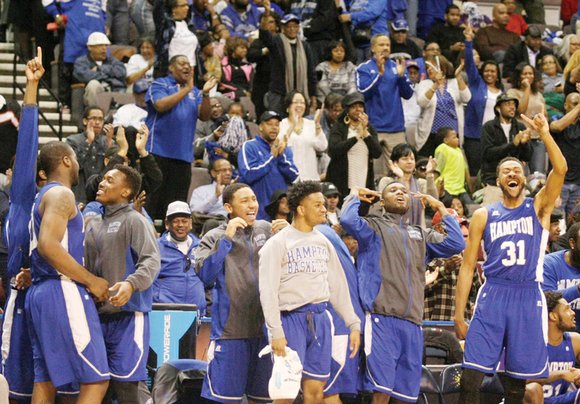 Hampton University is in position to make basketball history.
After triumphantly clinching the MEAC title and winning its first-round game in the NCAA Tournament, the Pirates will play undefeated and No. 1 overall seed University of Kentucky on Thursday, March 19, in Louisville, Ky.
Hampton is the 68th and last seed overall in the NCAA tournament.
CBS will televise the game about 9:40 p.m. Thursday, March 19.
"Hey, we're a billion-to-1 shot … but I'd rather be a billion-to-1 shot than to have no shot at all," HU Coach Ed "Buck" Joyner Jr. told truTV after defeating Manhattan College 74-64 in a First Four game Tuesday night in Dayton, Ohio. 
"Because when you're a billion-to-one, that at least means you're there," he said.
The Pirates are "there" due to a heroic March run after a so-so season.
Now 17-17, HU becomes the 16th seed in the Midwest Region.
Kentucky, 34-0, is seeded No. 1 and primed to become the most dominant team in college annals.
In NCAA tournament history, never has a 16th seed defeated a No. 1 seed.
HU has traveled a serpentine journey to its date with mighty Kentucky.
Seeded No. 6 in the MEAC tournament last week at the Norfolk Scope, the Pirates defeated Morgan State University, University of Maryland-Eastern Shore, Norfolk State and Delaware State universities to claim the conference's automatic NCAA berth.
Guard Deron Powers, a 5-foot-11 junior and sparkplug from Williamsburg, earned Most Valuable Player honors as HU won four games in six days in Norfolk.
Complicating an already difficult situation, HU likely will play Kentucky without two of its best players.
Pirate Dwight Meikle, the squad's top scorer, rebounder and shot blocker, rolled an ankle in Hampton's win over Morgan State in Norfolk. He didn't play during the remainder of the MEAC tournament, and didn't dress for the NCAA game against Manhattan.
Making it worse, Quinton Chievous suffered an ankle injury late in the win over Manhattan. It's questionable whether he'll be able to play in the game against Kentucky.
Chievous, a 6-foot-6 transfer from Tennessee, had 15 points and 13 rebounds before his injury.
Against Manhattan, HU's Reginald Johnson added 15 points; Brian Darden, 13 points; and Powers offered eight points and seven assists.
HU has a track record of NCAA upset magic. In 2001, the 15th seeded Pirates stunned No. 2 Iowa State University in Boise, Idaho.
MEAC regular season champ North Carolina Central University, a surprise semifinal loser to Delaware State University in the Norfolk tournament, was a 75-71 loser to host Miami, Fla., in the first round of the NIT tournament on March 11. The Eagles finished 25-8.
In Richmond, Ky., on March 11, Norfolk State University was defeated 81-75 at Eastern Kentucky in the first round of the CollegeInsider.com Tournament (CIT).
It marked the fourth straight season the NSU Spartans have advanced past MEAC to postseason play.