Personality: Dr. Phillip B. Duncan
Spotlight on cardiologist, leader of 'Spirit of the Heart'
5/1/2015, 12:05 p.m.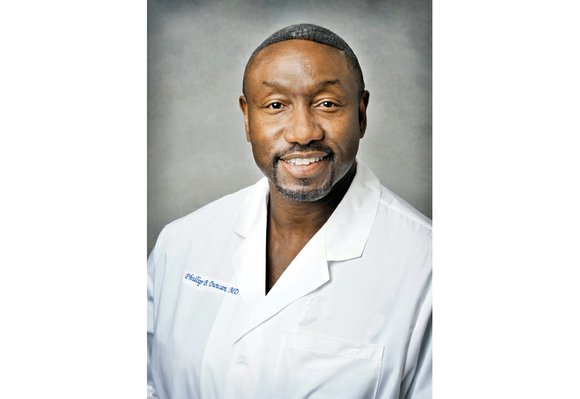 Here's a look at this week's Personality, Dr. Phillip Benteley Duncan:
Date and place of birth: Sept. 22 in New York City.
Alma maters with degrees: Bronx High School of Science; Rensselaer Polytechnic Institute, with a major in biomedical engineering and a minor in technical writing. Early entry into Howard University College of Medicine after two years of college.
Family: Daughters, Erica N. Duncan, J.D., an entrepreneur and business owner, and Arielle N. Duncan, M.D., a physician and aspiring cardiologist.
When I got involved with the Association of Black Cardiologists: 1985.
Why it is an important organization: ABC plays an important role in the professional and scientific development of a many black cardiologists. Some shining examples include Dr. Kim A. Williams, president of the American College of Cardiology; Dr. Clyde W. Yancy, chief of cardiology at Northwestern University; and Dr. Gary H. Gibbons, director of the National Heart Lung and Blood Institute at the National Institutes of Health. ABC has provided a necessary voice in the cardiology establishment on behalf of African-Americans and other underrepresented minorities. Our goal is to improve the health of all Americans, but we realize that disparities exist — from workforce to health outcomes. We work at every level — from communities to government.
Why I first agreed to serve as board chair: The organization has been so influential in my development that I couldn't say no.
My involvement with organization today:I still sit on the board. I also have a particular interest in raising awareness about heart failure. I am working on several projects in that area, including raising awareness about a gene present in as many as one out of every four African-Americans that may cause a particular type of heart failure (diastolic heart failure) or the lack of widespread use of a drug that is particularly effective in improving outcomes for African-Americans with heart failure. Another important initiative is increasing the numbers of African-Americans involved in the clinical trials that bring drugs to the market.
Foremost objective of Spirit of the Heart event: The goal is to encourage a lifestyle that reduces the risk and impact of heart disease. We are paying special attention to heart failure awareness because it is a common heart problem that people know little about.
Who is invited to participate:The entire greater Richmond-Petersburg community is invited to our Saturday event.
How many African-American cardiologists are located in the greater Richmond area: Seven.
Is the number of African-American cardiologists growing in the area or declining, why: Declining. The answer is complex but the short answer is the need to develop and mentor our young people, starting with their primary and secondary education. There also is a need for growth and diversification of our cardiology training programs.
How do heart disease and related deaths impact the African-American community:  Despite tremendous advances, African-Americans' heart disease mortality rates remain higher than those for Caucasians in America. Black people are two times more likely to develop heart failure compared to white people in the United States.