VUU's Hamilton slugs her way to All-CIAA
5/15/2015, 12:13 p.m.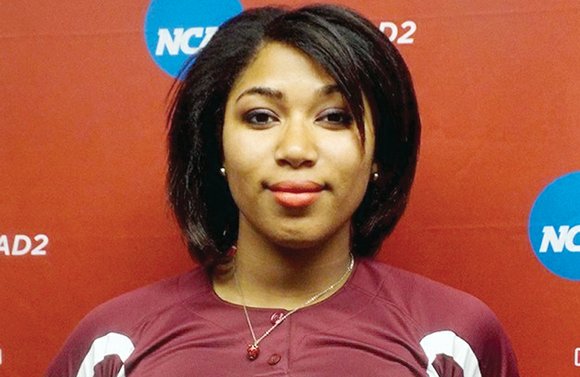 Taylor Hamilton swings a powerful bat in the middle of Virginia Union University's softball lineup.
The junior infielder/outfielder from Willingboro, N.J., slugged 10 homers, drove in 40 runs and batted .435 this past spring, leading VUU to a 16-11 record.
Her slugging percentage was a robust .848.
Hamilton made All-CIAA and the All-CIAA Tournament Team.
She blasted three homers in VUU's victory over Johnson C. Smith University on April 30 during the CIAA Tournament in Raleigh.
Joining Hamilton on the All-CIAA regular season team were catcher Shaquandra Brown from Chesapeake and second baseman Shekinah Stewart from Woodbridge. Both are juniors at VUU.
Brown hit .299, with a .403 slugging percentage.
Stewart led the Panthers with 27 runs scored.
Amber Jordan, a sophomore from White Plains, Md., made second team All-CIAA and Breana Miller, a freshman from Landover, Md., was selected to the All-Rookie Team.
Hamilton isn't the only outstanding athlete from Willingboro. It is also the hometown of Carl Lewis, a nine-time Olympic track and field gold medalist. — Fred Jeter