Jackson Ward church hosts Social Justice Weekend
11/13/2015, 1:32 p.m.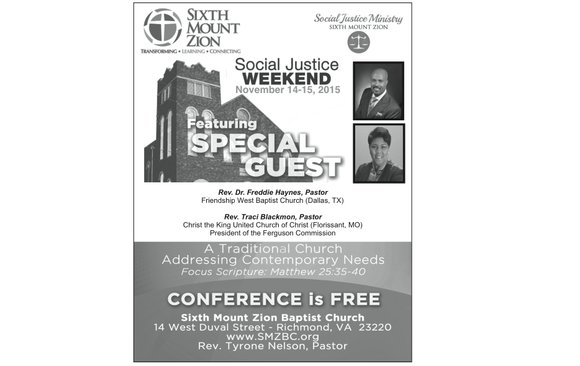 Sixth Mount Zion Baptist Church in Jackson Ward is hosting a "Social Justice Weekend" Saturday, Nov. 14, and Sunday, Nov. 15.
The free conference will focus on the biblical message in Matthew, Chapter 25 that says, "For I was hungry and you gave me something to eat, I was thirsty and you gave me something to drink, I was a stranger and you invited me in.
"I needed clothes and you clothed me, I was sick and you looked after me, I was in prison and you came to visit me."
Two pastors will speak at Saturday's event that will run from 10 a.m. to 3 p.m. at the church, 14 W. Duval St., led by the Rev. Tyrone Nelson.
The Rev. Traci Blackmon, pastor of Christ the King United Church of Christ in Florissant, Mo., will speak at 10 a.m. Rev. Blackmon served as president of the Ferguson Commission established by Missouri Gov. Jay Nixon to study the underlying issues raised by the shooting death of teenager Michael Brown Jr. by a white police officer in August 2014.
Following lunch, the Rev. Freddie Haynes, pastor at Friendship West Baptist Church in Dallas, will speak.
Rev. Blackmon also will preach at the 10:45 a.m. worship service Sunday.
Participants are encouraged to pre-register by calling (804) 648-7511 or going online to www.SMZBC.org.