Panthers b-ball hopes to come roaring back
11/25/2015, 9:47 p.m.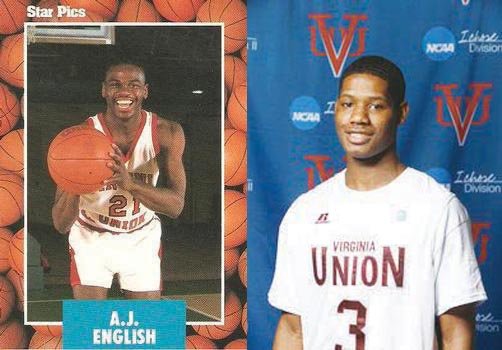 There's a common thread between one of Virginia Union University's all-time basketball greats and its current leading man.
Both A.J. English II and his protégé, Ray Anderson, hail from the hard courts of Wilmington, Del.
The VUU faithful are hoping Anderson, hailed by some as the "Ray of Hope," can usher the program back to the glory road.
English recommended VUU to Anderson and arranged for a visit, recounted the 6-foot-3 junior guard Anderson. "That's how I got here," he said.
The bouncy, spring-loaded Anderson has averaged 15 points during his first two seasons on Lombardy Street, first as a freshman under Coach Luqman Jaaber when Anderson was named CIAA Rookie of the Year, and then last year under Coach Tony Sheals.
A preseason, All-CIAA pick this go-round, Anderson begins his third season with Coach Jay Butler, his third coach at VUU in three seasons.
So far, Anderson has averaged 18 points and 3.5 assists per game in helping VUU to a 2-2 start under Coach Butler. The Panthers have back-to-back victories over Bluefield State and Shaw universities heading into its Friday, Nov. 27 home date with Winston-Salem State University.
Coach Butler places no boundaries on his upward-bound jump shooter.
"We'll go as far as Ray takes us," said Coach Butler. "He can be one of VUU's greats. But to be considered that, he needs to end on a winning note. In the end, it's all about the championships."
That's the rub.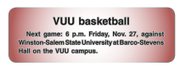 VUU hoops has stalled of late after winning 14 CIAA and three NCAA Division II crowns between 1979 and 2006 under Coach Dave Robbins.
The Panthers haven't advanced in the CIAA tournament for the last six years.
"We need to get back over the hump, win another CIAA," said Coach Butler, who was part of the CIAA titles in the 1990s under Coach Robbins.
English, whose retired No. 21 jersey waves from the rafters at VUU's Barco-Stevens Hall, played on two CIAA championship teams and led the NCAA Division II in scoring with 1,001 points (33.4 points average per game) in 1990.
VUU's other NCAA scoring champ was Michael A. Davis of Brooklyn, N.Y., who paced Division II in 1968 (36.3 points on average per game) before becoming a Baltimore Bullets top draftee.
Out of Wilmington's Howard High School, English was drafted in Round Two — he was chosen 37th overall — by the NBA's Washington Bullets (now the Washington Wizards) in 1990.
Anderson's said he considers English "a father figure."
He grew up with English's sons, A.J. III, who is starring now at Iona College in New York, and A'jen, who is at Globe Institute of Technology in New York.
While Anderson's and English's sons attended different high schools (Anderson's to St. Georges Tech; English's to Appoquinimink High), they joined forces on the AAU Assault travel squad.
At St. Georges, a vocational school, Anderson dabbled in plumbing and earned second-team, All-State honors on the hardwood.
"People here don't know about the plumbing. But I can do it. It's easy," he said with a laugh.