VSU homecoming a heartbreaker
Fred Jeter | 10/23/2015, 12:35 p.m.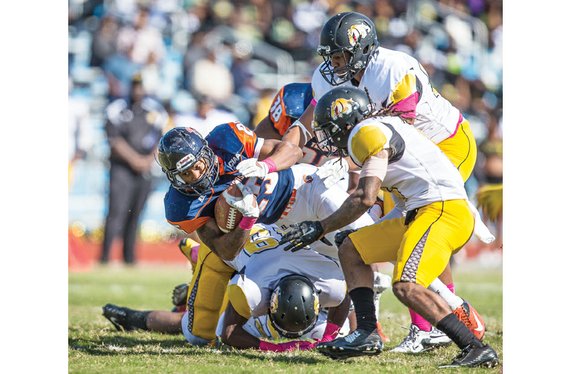 Virginia State University's Trojans are down but not necessarily out.
Following a heartbreaking 22-19 homecoming loss Oct. 17 to Bowie State University before 7,300 fans, VSU still has an outside chance of "three-peating" as the CIAA Northern Division champion.
But for that to happen, the Trojans, now 1-1 in the division, will need to go on a winning streak — and get some outside help.
While there are several combinations that could vault the Trojans to a third straight divisional title, the most reasonable scenario would be this:
VSU wins its final three games — at Lincoln University on Oct. 24, at Chowan University on Oct. 31 and in Ettrick against Virginia Union University on Nov. 7 — and hope VUU and Bowie State and Elizabeth City State universities stub their toes elsewhere.
It would be particularly helpful to first-year Coach Byron Thweatt's Trojans for VUU to upend Bowie State on Saturday. That is because Bowie State holds the head-to-head tiebreaker over VSU should both finish tied for first.
There is a remote chance for a three-way logjam at the top — likely with 4-1 records — with VSU the possible victor by tie-breaker.
Elizabeth City State, with a 1-1 record in the CIAA Northern Division, is another program with a mathematical chance of finishing in a tie for first place.
While VSU didn't produce a victory before the homecoming crowd, there was no shortage of excitement. 
Mercurial sophomore tailback Trenton Cannon was scintillating, rushing for 184 yards on just 12 carries.
From Hampton's Kecoughtan High School, Cannon split the Bowie State defense for touchdown runs of 67 and 68 yards.
He also caught a 26-yard scoring pass from quarterback Tarian Ayres.
Defensively, Geo Feggins, a junior from South Hill, had 8.5 tackles and Darion Thomas, a senior from Virginia Beach, had a blocked extra point and interception.
Cannon, after playing little in the season opener, now has 879 yards and eight touchdowns. Averaging 125.6 yards per game, he is second in CIAA rushing to Lincoln University's Steven Scott, who averages 145.4 yards per game.
Jordan Anderson set VSU's all-time, single season rushing record in 2013 with 1,142 yards.
VSU, outgained 450 yards to 382, led until Bowie State's back-up quarterback, Nyema Washington, hit Kerrick Pollock for a 12-yard touchdown with 2:24 left on the Rogers Stadium clock.
Washington replaced Trevon Bennett, who hit 26 of 41 aerials for 274 yards. Bennett was the replacement for Matt Coggans, who threw 16 touchdown passes through five games before being ruled ineligible.
The game marked the Trojans' first divisional loss since falling to VUU in the final game in 2012. VSU was undefeated against CIAA teams in both 2013 and 2014 under former Coach Latrell Scott.