VSU beats Lincoln, but loses out on title
10/30/2015, 8:33 p.m.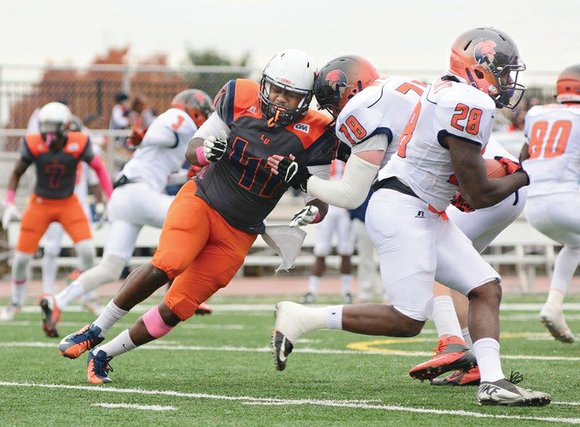 Kavon Bellamy is aiming toward a fast finish this football season at Virginia State University.
Slowed by a nagging ankle injury much of the fall, the junior from Hampton High School is finally at full speed, which means, "Tacklers beware!"
A powerhouse 210-pounder who'd rather run over opponents than go around them, Bellamy pounded for 240 yards and three touchdowns in the Trojans' 35-0 rout of Lincoln University last Saturday in Pennsylvania.
Now 5-3 overall and 2-1 in the CIAA Northern Division in Coach Byron Thweatt's first season, VSU travels to Chowan University Saturday, Oct. 31, before closing at home Saturday, Nov. 7, against Virginia Union University.
Bellamy, who was All-CIAA as a sophomore, missed two full games earlier this year and has played sparingly since then.
Now the converted linebacker is finally healthy and prepared to make a season closing statement.
"It's been tough this year dealing with the ankle. It feels good to be well," he said. "This week during practice, I told my O-line (offensive line), 'Let's get back to doing what we do.' "
Bellamy rambled for 989 yards a year ago, leading VSU to the CIAA title and to the second round of the NCAA Division II playoffs.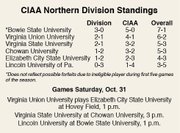 Realistically, the Trojans are out of the running for a third straight CIAA Northern Division title. Bowie State University's win over VUU last Saturday pretty much gives the Bulldogs the title.
All Bowie State has to do to clinch the Northern Division title is defeat last place Lincoln University this week. Lincoln University has lost four straight games while allowing an average of nearly 45 points per game.
Another VSU running back, freshman Trenton Cannon, settled for 41 yards at Lincoln University and now has 915 yards for the season.
Leading the Trojans defense at Lincoln was Geo Feggins, with 10 tackles, including 2.5 sacks.