VUU looking toward new season; Saturday opener at Hovey Field
Fred Jeter | 9/4/2015, 5:56 a.m. | Updated on 9/4/2015, 5:56 a.m.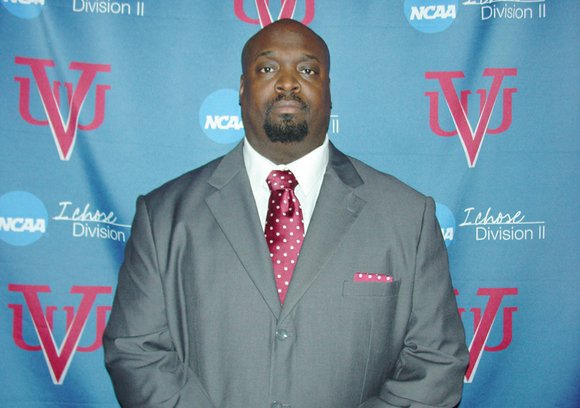 Mark James began his first coaching season at Virginia Union University with modest expectations.
Much has changed heading into year two.
After flipping the record from 3-7 in 2013 (Michael Bailey's final season) to 7-3 in 2014, much more is anticipated this go-round.
"We've had a good offseason. I like our work ethic, and we've recruited well — brought in some difference makers, we feel," said Coach James.
"Our goal is to keep getting better."
Coach James was asked if "getting better" meant better than 7-3.
"Yes, better than 7-3," he responded, as he looked ahead to the home opener 1 p.m. Saturday, Sept. 5, at Hovey Field.
Coach James' second edition of Panthers will be a solid favorite against Brevard College of North Carolina. Brevard is in the NCAA Division II South Atlantic Conference. Despite a strong rushing attack, Brevard was 1-9 a year ago.
Coach James' goals this year include reaching the CIAA championship game Nov. 14 in Durham, N.C., and qualifying for Division II playoffs.
VUU's last CIAA title was in 2001 under Willard Bailey. Its last NCAA bid was in 1991 under Coach Joe Taylor, now VUU's athletic director.
Continued improvement and confidence, along with a vanilla schedule, all point in the Panthers' favor.
VUU's 10 opponents this season were a combined 36-69 last year. Take away Virginia State University's 10-3 record and the overall record of VUU's foes is 26-66.
It helped that VUU shed Winston-Salem State University from its schedule a year ago. From 2010 to 2013, the Rams were 4-0 against the Panthers, winning by a combined 204-50.
At this juncture, it seems VUU might be favored in every game but two.
The Panthers will be an underdog Sept. 19 at Gardner-Webb University, an NCAA FCS (formerly 1-AA) division member of the Big South Conference.
The regular season finale on Nov. 7 at Virginia State University looms as a toss-up and figures to be the deciding factor in the CIAA Northern Division race, as it was last year.
VSU and VUU were picked to finish 1-2 this fall in the CIAA Northern Division; Southern Division juggernaut Winston-Salem State was voted first overall.
Coach James says the season-ending loss to VSU a year ago "left a sour taste in our mouths."
VUU was forced to go with third string quarterback Dane James, the coach's son, after alternate starters Ken Graham and Shawheem Dowdy were lost to injuries the week before.
Coach James said he will again employ a "two quarterback system" this fall, with Dowdy and Purdue University transfer Austin Parker. Graham is recuperating from knee surgery and is expected to return in 2016.
Dowdy and Parker both will play, Coach James said. "It's a matter of who does what well on a given Saturday," he said.
Offense players to watch include All-CIAA senior center Addison Hayes, tailback Jerome Robinson and newcomer Kevon Cooley from Armstrong High School.
Hayes is considered VUU's top offensive lineman since David Mims in 2010. Mims went on to suit up for Kansas City and Baltimore in the NFL.
From Powhatan, Robinson is described by Coach James as "tough and durable — can carry the load."
Cooley is an explosive, all around athlete whom Coach James calls "our X-factor. Kevon could play wide receiver, running back, defensive back, return kicks, you name it," he said.
VUU's passing game should again feature plenty of long distance deliveries. Wideouts Jussie York and Donte Gross averaged about 17 yards per reception and combined for 14 touchdowns.  
Overall, VUU racked up 4,038 yards of total offense in 2014 while holding opponents to 2,909 yards.
An area in need of improvement involves penalties. VUU was flagged for 1,276 yards last season, compared to 834 yards for its foes.
Defensively, Coach James feels he has one of the CIAA's top linebackers in roughhousing senior captain Joe Blanks, a 240-pound wrecking ball who played much of last season with a broken hand.