From 'Mumbles' to 'MVP'
Petersburg basketball icon Moses Malone dies at 60
Fred Jeter | 9/17/2015, 10:02 p.m.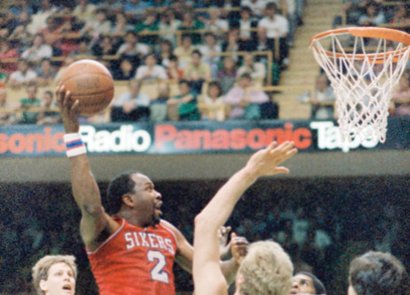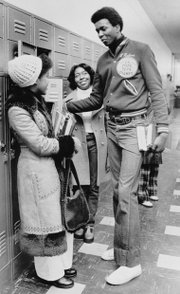 Moses Eugene Malone, the Petersburg native and basketball icon whose talent took him directly from high school to the pros, died of apparent heart failure while sleeping Sunday, Sept. 13, 2015.
The three-time NBA Most Valuable Player died in Norfolk, where he was to participate in a charity golf tournament with the Still Hope Foundation, an organization founded by NBA referee Tony Brothers and his wife, Monica, to assist single mothers in Hampton Roads.
Mr. Malone, 60, who resided in Houston, had been treated days earlier for an irregular heartbeat and was wearing a heart monitor when he was found unresponsive in a Norfolk hotel room.
The state medical examiner's office said Mr. Malone died of natural causes and listed those causes as hypertensive and atherosclerotic cardiovascular disease.
Ranked with the greatest of all time, Mr. Malone was inducted into the Naismith Memorial Basketball Hall of Fame in 2001, the first year he was eligible for the honor.
But before gaining celebrity status, he was just another youngster — albeit a towering one — growing up in the Heights neighborhood of Petersburg.
From such humble roots, no one then could have predicted his future greatness.
His home-away-from-home was the asphalt basketball courts at Virginia Avenue Elementary School, which is now closed.
"Mo was a fun-loving guy — a jokester — but he didn't say much," recalled close friend Ed Robinson. "In fact, if you didn't see him, you wouldn't know he was around."
Virginia Avenue attracted many athletes with impressive resumes from high school and college, as well as players described as street legends.
Always on the lookout for stiffer competition, Mr. Malone and others engaged in pick-up games at Lee Park, Fort Lee — "playing the soldiers," Mr. Robinson said — and Virginia State University "against college guys," he added.
An only child, Mr. Malone lived with his mother, the late Mary Malone, in a modest home a block away from Virginia Avenue on St. Matthew Street. There was plenty of love in the house, but no real father figure.
Mary Malone, who died in 2012 in Huntsville, Ala., was a cashier at Safeway, sang in the choir at Community Independent Methodist Church on River Road in Chesterfield where she grew up, and was a renowned cook.
She raised her son alone.
"Yeah, Mo was poor. We were all poor. But we didn't know it then," said the 6-foot-6 Mr. Robinson, who succeeded Mr. Malone as a Petersburg High School center in 1974-75.
"Mo never drove a car that I knew of," he said. "In fact, the first time I ever saw Moses driving was when he came back from Utah. He was driving a Rolls Royce."
Mr. Malone was a 6-foot-8 high school sophomore when Petersburg High Coach Carl Peal summoned him to play for the Crimson Wave varsity late in the 1971-72 season.  
Sprouting to 6-foot-10 by the 11th grade, Mr. Malone went on to score 2,124 career points at the school, including 896 as a senior while averaging 35.8 points per game.