John Marshall High's Reginald Revels has record day
Fred Jeter | 9/25/2015, 6:31 a.m.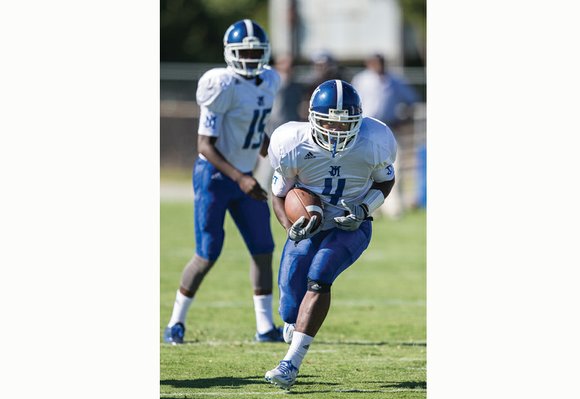 There has been a major change in Reginald Revels' after-school autumn itinerary.
About this time a year ago, he headed to McDonald's after classes for a part-time job flipping burgers. 
This year, he has traded in his apron and spatula for a helmet, shoulder pads and the No. 4 blue and white jersey for the John Marshall High School football team.
You might say he has gone from preparing fast food to showing off his fast feet.
In just his second game for the Justices, the 5-foot-10, 183-pound senior scored five touchdowns and rushed for 215 yards in John Marshall's 50-26 rout Sept. 14 of visiting Armstrong High School.
John Marshall Activities Director Lamont Davis believes both the number of touchdowns and the yardage in a single game are school records.
"We really don't have records going way back," said Davis. "We're saying what Reggie did are the records and leaving it up to someone to prove any different."
It's not like Revels was a total unknown around the athletic department before this football season.
Previously, he played shortstop on the baseball team and has been a back-up guard in basketball.
"I just wasn't into football," he said. "I hadn't played since before high school, when I was with the Calhoun Cougars" in the city Rec League.
"I worked last fall (at McDonald's), but quit when it was time for basketball."
Revels said he was persuaded to go out for football by his cousin, Raynard Revels II, a former Hermitage High School standout who now plays linebacker at Norfolk State University.
"Raynard told me that football was in my blood and I ought to give it a try before it's too late," said Reginald.
The "original" Raynard Revels was the star quarterback under Coach Lou Anderson at Maggie Walker High School in the late 1970s, and served as NSU's quarterback from 1980 to 1982.
What Reginald Revels may lack in experience, he makes up for with other attributes, said Coach Redd Thompson.
"Reggie runs low and he runs hard, and he's good at reading his blocks," said Coach Thompson. "He's a tough kid and I love his energy."
Revels' break-out performance came behind an offensive line of Tyshaan Davenport, Malik Arnold, Kelvin Preston, Edward Boisseau and Kavon Harris, and bruising fullback Dorian Lee.
"Our O-line had a great day," said Revels.
"I didn't think about any records or anything like that until I came to school the next day and people were talking."     
He's no one-game wonder.
Revels had a touchdown in the opening loss on Sept. 5 to Booker T. Washington High School of Norfolk and added another touchdown and 105 yards overland in the loss on Sept. 18 to Prince George High School.
The Justices' next game will be at home at 4 p.m. Monday, Sept. 28, against Henrico County's Douglas Freeman High School.
Ribbon-cutting ceremonies, which have been postponed twice now, for John Marshall High's improved football facility will be noon Saturday, Oct. 10, with a 1 p.m. kickoff for the game against Thomas Jefferson High School.