Four candidates to run in primaries for 4th District congressional seat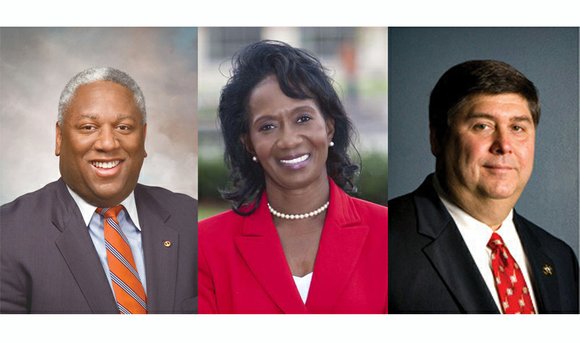 The election for the 4th Congressional District seat that now includes Richmond is beginning to shape up.
Two Democrats and two Republicans have qualified to run for their respective political party's nomination in a June 14 primary. The winners of the primaries then will face off for the seat in the November general election.
On the Democratic side, General Assembly veteran A. Donald McEachin of Henrico County, a personal injury attorney and the 9th District state senator since 2007, is in a contest with two-term Chesapeake City Councilwoman Ella P. Ward for the party nomination.
Dr. Ward, who retired after 35 years as a teacher and administrator for Portsmouth Public Schools, has served on the council since 2006. She also is a former member of the Chesapeake School Board and served eight years on the Virginia Board of Education.
On the Republican side, four-term Henrico Sheriff Michael L. "Mike" Wade will compete in the GOP primary with Jackee K. Gonzales of Chesterfield County, a Nigerian-born housewife and mother of two who has been a grassroots organizer for the conservative Family Foundation. She is making her first bid for public office.
The seat is open because longtime 4th District Congressman J. Randy Forbes is running in the 2nd Congressional District.
Separately, in the 3rd Congressional District that previously included Richmond, incumbent Rep. Robert C. Scott of Newport News is unopposed for the Democratic Party nomination as he seeks his 13th term. He will have a Republican challenger, Martin Williams, a retired Chesapeake police officer and member of the Chesapeake Planning Commission.