Power to vote
Gov. McAuliffe boldly restores voting rights of 206,000 Virginians, including disenfranchised African-Americans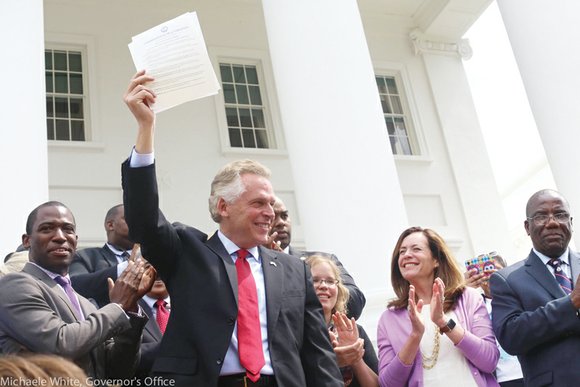 David Mosby no longer feels like a second-class citizen.
After years of being barred from the ballot box because of his criminal record, the 46-year-old home improvement contractor is finally able to vote and fully take part in the life of his community.
"I never thought I'd have this opportunity," said the teary-eyed Varina resident, one of more than 200,000 Virginians whose lives have been changed with a stroke of Gov. Terry McAuliffe's pen.
Last Friday, Gov. McAuliffe went further than any state chief executive to eliminate the last big barrier to voting in Virginia — a felony conviction.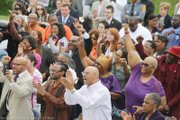 He signed an order restoring the right to vote to anyone who had completed a prison term as well as any probation or parole requirements as of April 22.
The change also allows the former felons to serve on a jury or to run for political office.
Even more stunning, the governor made no distinction between those with records for violent crimes such as robbery and rape and those who committed nonviolent offenses such as fraud and illegal drug use.
The policy change represents a victory for the Virginia State Conference of the NAACP and the American Civil Liberties Union of Virginia, which have been urging such action from the past three governors.
Immediately, state Republican leaders charged that Gov. McAuliffe had overstepped his authority and urged him to call a special session of the General Assembly to review his action, a call he rejected.
Yet despite the GOP backlash, the Democratic governor has promised to update the order monthly to include other Virginians who fully complete felony sentences after April 22.
Essentially, Gov. McAuliffe has transformed Virginia from one of the most restrictive states in restoring citizenship rights. A majority of states allow for automatic restoration of rights once a felon completes his or her sentence. Only Florida, Kentucky and Iowa were like Virginia in barring felon voting unless a governor restored rights.
In a state where 307,000 people with felonies are believed to be disenfranchised, according to the Washington-based Sentencing Project, Gov. McAuliffe stated that his order would impact 206,000 people immediately, possibly half being African-American.

He has rebuffed a request from the General Assembly to release the names and backgrounds of those whose rights are restored. However, newly appointed Secretary of the Commonwealth Kelly Thomasson has put up a searchable database on her office's website giving individuals the ability to check to see if their rights have been restored.
Should the next Virginia governor rescind the order when he or she takes office in January 2018, state Sen. A. Donald McEachin, D-Henrico, said that Gov. McAuliffe's action could not be reversed for those whose rights he has restored and who now can register and vote for the next president and for others seeking local and state office.
Before signing the order, the governor said his action would help undo the state's long history of trying to prevent African-Americans from full participation.
As he and others noted in remarks made on the South Portico of the Virginia Capitol, African-Americans did not gain full voting rights until 1965, when Congress passed the federal Voting Rights Act.