Feggins hopes to get VSU football back to No.1
Fred Jeter | 8/13/2016, 7:48 a.m.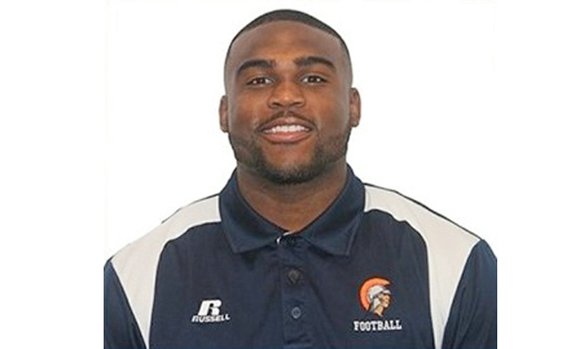 Small town kid, big time talent.
That may be the best way to describe George "Geo" Feggins, Virginia State University's bone-jarring middle linebacker.
The 6-foot-1, 215-pound senior, who came to the Trojans from Park View High School in South Hill — population 4,541 — is VSU's lone All-CIAA preseason pick.
"From watching video, Geo was obviously the best defensive player we had last year," said first-year Coach Reggie Barlow.
"He understands what it takes to play the position. We'll lean on Geo a lot."
As a junior, Feggins recorded 78 tackles (55 unassisted) with six sacks, three forced fumbles and one interception.
Many of his determined takedowns were of the ooh and ahh variety. His shaken foes tend to get up slowly. 
The sports management major is a perfect gentleman off the field, but turns fierce between the lines.
"I describe myself as a headhunter," he told the Free Press. "By that, I mean I hunt the ball."
Feggins wore the blue and orange No. 34 jersey last year, but is switching to No. 1 for his final season at Rogers Stadium.
He says the look-at-me No. 1 isn't so much to draw individual attention, but more a team mindset.
VSU won the CIAA Northern Division championship his freshman year and the overall CIAA championship his sophomore year under Coach Latrell Scott.
Last fall, the Trojans slipped to 6-4 overall and 4-3 in the CIAA in Coach Byron Thweatt's lone season.
"We want to get back to No. 1 — and we can," said Feggins. "That 6-4 wasn't far from being 9-1."
A 28-27 loss to Virginia Union University and a 22-19 defeat to CIAA Northern Division champs Bowie State University was the difference between ending up third and not first in the CIAA division.
For whatever reasons, Feggins was lightly recruited at Park View High School despite helping the Group A school to its best season —10-3 — in school history in 2012.
"I just think it was the smalltown thing," he said, shrugging his ample shoulders. "Not a lot of college coaches come to South Hill."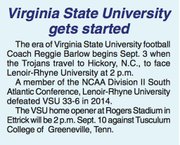 Lukewarm interest certainly wasn't academically related. He posted a 3.82 GPA at Park View High, had qualifying standardized test scores and, for good measure, played bass drum in the school marching band.
"I still pick up the sticks sometimes," he said.
Located about 47 miles south of VSU along Interstate 85, South Hill has produced at least two NFL players. Waverly Jackson was an offensive lineman 1998 to 2002 with the Indianapolis Colts after starring at Virginia Tech.
And Geo's cousin, Howard Feggins, was a defensive back with the New England Patriots in 1989 after going to the University of North Carolina.
Geo Feggins made unofficial recruiting trips to FCS programs at Hampton, Liberty and Norfolk State universities, but received no firm offers, merely invitations to try out as a walk-on.
He was better received at non-scholarship Averett and Ferrum and Randolph-Macon colleges, but he believed in his ability and wasn't going to settle for Division III.
Finally, VSU offered him a partial scholarship under Coach Scott.
"If I hadn't come here (to VSU)," Feggins said, "I'd have probably walked on at Norfolk State."
Coach Barlow sees himself in Feggins.
From Montgomery, Ala., Coach Barlow received just one scholarship offer — from Alabama State University in his hometown.
"And I think that was more a sympathy scholarship than anything else," said Coach Barlow.
Coach Barlow took advantage of his one offer and blossomed at Alabama State. He later played in the NFL from 1996 to 2003 with Jacksonville, Oakland and Tampa Bay.
Away from the action, Feggins is a fun-loving young man who enjoys riding go-karts at Petersburg's Go-Kart Village. His face brightens while telling of wheeling around sharp turns at the Crater Road facility.
But his focus sharpens on game days to what might be described as demolition derby — gridiron style.