Maggie Walker statue clears final hurdles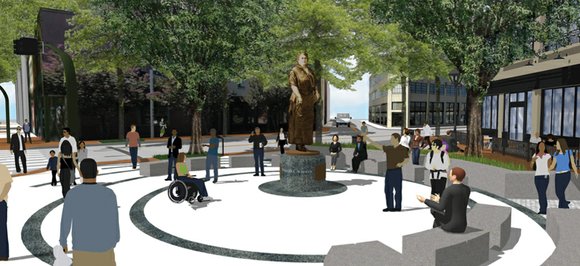 The plan to create a statue of Richmond great Maggie L. Walker in Downtown has cleared its final hurdle.
Now the work can begin on the project to honor Mrs. Walker, best known as the first African-American woman to charter and serve as the president of a bank, an accomplishment in 1903 when Mrs. Walker was leading the Independent Order of St. Luke, a benevolent society.
Capping months of discussion and reviews, the Richmond Plan- ning Commission, which has the final say, on Monday approved Maryland sculptor Antonio "Toby" Mendez's statue concept after viewing the model — clearing the way for him to develop the full-sized 10-foot figure that will be cast in bronze.
He was awarded a $300,000 commission to create the statue that will portray Mrs. Walker in the prime of life and will be the centerpiece of a 6,500-square-foot circular stone plaza that the commission approved last month.
The finished statue will stand on a 3-foot, 4-inch pedestal. Mr. Mendez indicated that it would take four to six months for the statue to be completed, cast and ready for installation. He has said he would not rush the process.
The plaza, which is expected to cost about $620,000 to create, will sit at the now triangular intersection of Broad and Adams streets and Brook Road. That portion of Brook Road, one of the city's original streets, is to be closed to make room for the new plaza.