President Obama awards 21 the Medal of Freedom
12/2/2016, 6:58 a.m.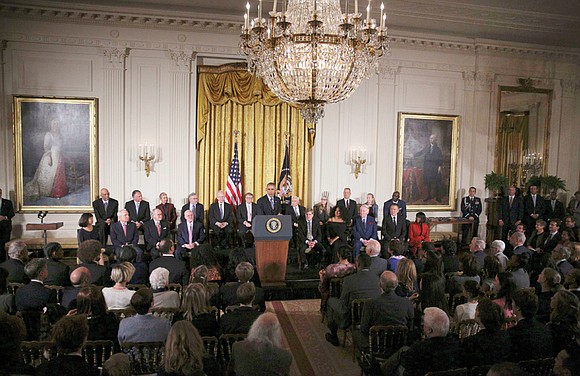 President Obama awarded the 2016 Presidential Medal of Freedom — the highest civilian honor in the United States — to 21 key figures at a star-studded ceremony at the White House last week.
The president presented the prestigious medal to former NBA basketball players Michael Jordan and Kareem Abdul-Jabbar, actors Tom Hanks, Robert De Niro and Robert Redford and Microsoft co-founder Bill Gates and his wife Melinda for philanthropic work.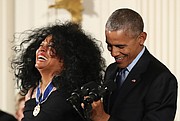 "It's useful when you think about this incredible collection of people to realize that this is what makes us the greatest nation on earth," President Obama said.
The medal is given annually to those who have made outstanding contributions to the national interests of the United States, to security, world peace, cultural or other significant public or private endeavors.
Other recipients this year included singer Diana Ross, Native American community leader Elouise Cobell, NASA moon landing computer scientist Margaret H. Hamilton and rock star Bruce Springsteen.
TV talk show host Ellen DeGeneres, who also was awarded the medal, conducted a "mannequin challenge," a video that features people frozen in place, with the recipients.
President Obama leaves office in January after eight years.
The recipients:
Kareem Abdul-Jabbar, the NBA's all-time leading scorer, helped lead the Los Angeles Lakers to five championships and the Milwaukee Bucks to another. During his career, he was a six-time NBA Most Valuable Player and a 19-time NBA All-Star. He also has been an outspoken advocate for social justice.
Elouise Cobell, posthumous, was a Blackfeet Tribal community leader and an advocate for Native American self-determination and financial independence. She used her expertise in accounting to champion a lawsuit that resulted in a historic settlement, restoring tribal homelands to the Blackfeet Nation and many other tribes. She also helped found the Native American Bank and served as director of the Native American Community Development Corporation.
Ellen DeGeneres, an award-winning comedian who has hosted her popular daytime talk show, "The Ellen DeGeneres Show", since 2003. In 1997, after coming out herself, she made TV history when her character on "Ellen" revealed she was a lesbian. In her work and in her life, she has been an advocate for equality and fairness.
Robert De Niro has brought to life some of the most memorable roles in American film during a career that spans five decades. He is a seven-time Academy Award nominee and two-time Oscar winner, and is also a Kennedy Center honoree.
Richard Garwin, a polymath physicist who earned a Ph.D. under Enrico Fermi at age 21 and subsequently made pioneering contributions to U.S. defense and intelligence technologies, low-temperature and nuclear physics, detection of gravitational radiation, magnetic resonance imaging (MRI), computer systems, laser printing and nuclear arms control and nonproliferation. He directed Applied Research at IBM's Thomas J. Watson Research Center and taught at the University of Chicago, Columbia University and Harvard University. He is the winner of the National Medal of Science and holds 47 patents.
Bill and Melinda Gates established the Bill & Melinda Gates Foundation in 2000 to help people across the globe lead healthy, productive lives. In developing countries, the foundation focuses on improving people's health and giving them the chance to lift themselves out of hunger and extreme poverty. In the United States, the mission is to ensure that all people — especially those with the fewest resources — have access to the opportunities they need to succeed in school and life. The Gates Foundation has provided more than $36 billion in grants since its inception.