Under scrutiny, Trump announces plans to dissolve his foundation
Reuters | 12/30/2016, 9:44 a.m.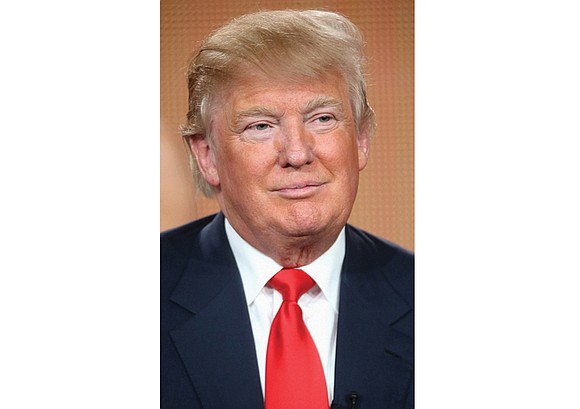 President-elect Donald Trump said he intends to dissolve his charitable foundation, the Donald J. Trump Foundation, which has been under investigation by the New York attorney general.
The president-elect gave no timeline for winding down the foundation, but said in a statement released on Dec. 24 that he wanted "to avoid even the appearance of any conflict with my role as president."
He directed his counsel to take the necessary steps for the dissolution.
With less than four weeks to his Jan. 20 inauguration, the New York real estate magnate is under increasing pressure to reduce potential conflicts of interest ranging from his vast global business operations to his family's philanthropic work.
Last week, Mr. Trump said his son, Eric, would stop raising money for his own foundation over concerns that donors could be seen as buying access to the Trump family. The president-elect said it was a "ridiculous shame" that his son's foundation would stop raising money.
Before Mr. Trump's surprising election victory on Nov. 8, New York Attorney General Eric Schneiderman in October directed the Donald J. Trump Foundation to stop taking donations, saying the foundation violated state law requiring charitable organizations that solicit outside donations to register with a state office.
Mr. Schneiderman's order followed a series of reports in The Washington Post that suggested improprieties by the foundation, including using its funds to settle legal disputes involving Trump businesses.
A spokeswoman for the attorney general's office said last week that Mr. Trump cannot shutter the foundation while the investigation is ongoing.
"The Trump Foundation is still under investigation by this office and cannot legally dissolve until that investigation is complete," spokeswoman Amy Spitalnick said.
She would not comment on the expected timing for completing the investigation.
Mr. Trump said he was "very proud" of the money raised by the foundation and said it had operated at "essentially no cost for decades."
"But because I will be devoting so much time and energy to the presidency and solving the many problems facing our country and the world," he added in his statement, "I don't want to allow good work to be associated with a possible conflict of interest."
The Trump Foundation, which was established in 1988, runs no programs of its own. Instead, it donates to other nonprofit groups, such as the Police Athletic League for youths.
Scrutiny of the Trump family's philanthropic activities heightened in recent weeks following reports of access to the family for potential donors.
Eric Trump faced criticism for an online auction sponsored by his foundation, which raises money to help terminally ill children at St. Jude Children's Research Hospital, offering the highest bidder a chance to have coffee with his sister, Ivanka.
After the announcement that Eric would not be allowed to raise money for his foundation, Mr. Trump tweeted: "He loves these kids, has raised millions of dollars for them, and now must stop. Wrong answer!"
Mr. Trump's critics, however, recall how the president-elect attacked his Democratic opponent Hillary Clinton and her husband, former President Bill Clinton, over their family foundation. In August, Mr. Trump urged the U.S. Justice Department to investigate the Clinton Foundation, which he called a "pay-to-play" operation that rewarded big donors with favors from the U.S. State Department while Mrs. Clinton was secretary of state.
Eric Trump and his brother, Donald Trump Jr., also came under fire last week for their role in a post-inauguration charity event that offered a private reception with their father in exchange for a $1 million donation.
The brothers were listed on a draft invitation as honorary co-chairmen of the fundraiser for conservation charities, dubbed "Opening Day," set to be held in Washington the day after the Jan. 20 inauguration.
The Trump transition team said Donald Trump Jr. and Eric Trump were not involved with the fundraiser and a subsequent invitation dropped references to donors meeting with any members of the Trump family.