Payday loan victim joins class action suit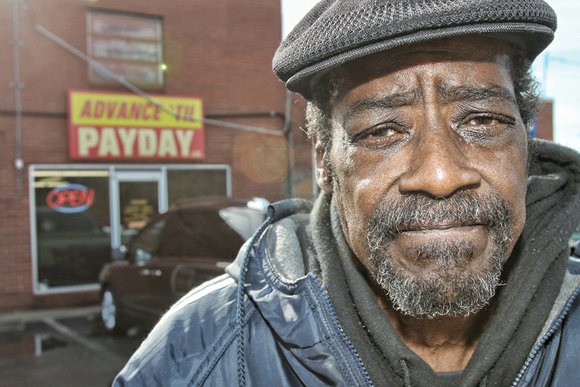 Henrico resident Donald Garrett is joining a class action suit seeking to hold Advance 'Til Payday loan company accountable for allegedly evading state law and charging up to 960 percent interest on small loans of $100 to $300.
Mr. Garrett was the focus of a front-page article in last week's edition of the Free Press. The article detailed how he ended up paying $320 in "participation fees" — the company's definition of its alleged interest charge — after borrowing $100 at a Henrico County outlet of the Illinois-based Advance 'Til Payday.
After the article's publication, Mr. Garrett was invited to become a plaintiff in the federal court suit spearheaded by the Virginia Poverty Law Center, a Richmond-based nonprofit advocacy group.
The suit, filed in December on behalf of Richmond resident Linda Ashford and all others who have borrowed from the company, seeks to prevent Advance 'Til Payday from escaping interest caps by claiming to only charge fees.
As yet, the federal court has not certified the class action. The company also has filed a counter, seeking dismissal of the suit for failing to state a claim "upon which relief can be granted."
As it does in its contracts with borrowers, the company claims that borrowers, including Ms. Ashford, are charged no interest in receiving a "line of credit" from the company.
Not only does Advance 'Til Payday claim it meets federal disclosure requirements, the company claims it is exempt from interest limits under state usury law regarding interest.
Because it does not charge interest, the company argues that the monthly $80 "participation fee" it imposes on each borrower is not regulated by state law.

That is the meat of the case — whether a fee constitutes interest.
The Poverty Law Center filed the case with the assistance of two Northern Virginia law firms, Kelly & Crandall and Surovell, Isaacs, Peterson & Levy.