Youth enjoy tourney hosted by Flying Squirrels
Fred Jeter | 7/15/2016, 10:02 a.m.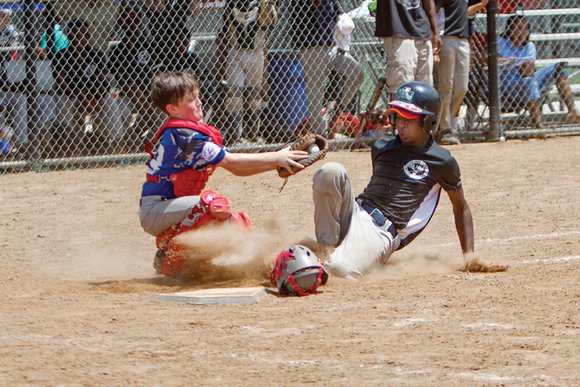 Two Richmond youth baseball teams enjoyed a taste of victory last Friday and Saturday in Chesterfield County.
The Richmond Hornets and a squad from the Metropolitan Junior Baseball League (MJBL) competed in the fourth annual Richmond Flying Squirrels Regional Youth Tournament for youngsters ages 12 and under at Harry G. Daniel Park at Ironbridge.
The Hornets went 3-1 overall and lost to the Chesterfield Broncos 10-9 in the Gold Division final.
The Hornets are an independent outfit with travel teams representing several age groups.
The MJBL lost 10-6 in the Silver semifinals to the Chesterfield Nationals after advancing via a thrilling 8-5 victory over the Chesterfield Royals.
"We've got a bunch of first-year kids and that victory meant a lot to them," said MJBL coach Michael Berry.
"It was a great experience for us. A lot of these kids had never played in a tournament before."
As an added attraction, the Squirrels' mascot, "Nutzy," entertained players and fans alike during the bracket games.
The 10-team draw included the two Richmond teams, four squads from Chesterfield and one each from Henrico, Goochland, Hopewell and Windsor.
There was no entry fee for the two-day event.
"What you see in this tournament are kids from all over playing together," said tournament director Al Mumphrey of the MJBL. "The Squirrels have provided the means to reach out to a broader audience and bring these kids together to enjoy baseball."
Coach Berry is preparing to help take three teams to the MJBL Inner City Classic & Black World Series outside Chicago July 18 through 23.