Farewell to the champ
Muhammad Ali fought for justice, equality and title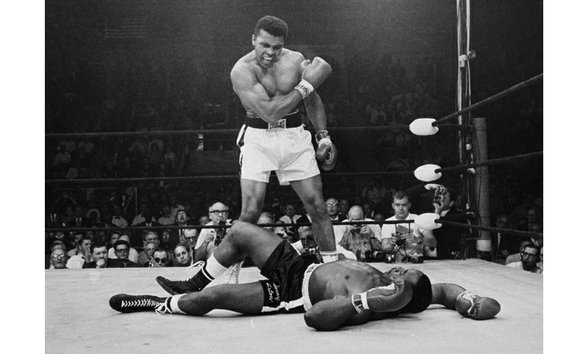 As one of the best-known figures of the 20th century, Mr. Ali did not believe in modesty and proclaimed himself not only "the greatest" but "the double greatest" during his heyday. In 1978, DC Comics even featured Mr. Ali and Superman as partners in a comic book.
Americans had never seen an athlete like him, a man with lightning-fast feet, a quick knockout punch and unrepentant words.
He was heavyweight champ a record three times between 1964 and 1978, taking part in some of the sport's most epic bouts, dethroning and eclipsing champions like Sonny Liston and George Foreman and winning boxing immortality with his battles with former champion Joe Frazier.
In his heyday, Mr. Ali was cocky and rebellious and psyched himself up by taunting opponents and reciting original poems that predicted the round in which he would knock them out. The audacity caused many to despise Mr. Ali but endeared him to millions who adored him for his ability "to float like a butterfly, sting like a bee."
"He talked, he was handsome, he did wonderful things," said George Foreman, a prominent rival, who lost the heavyweight title to Mr. Ali in the 1974 "Rumble in the Jungle" in Zaire "If you were 16 years old and wanted to copy somebody, it had to be him."
Mr. Ali's emergence coincided with the American civil rights movement and his persona of a rebel offered youths something they did not get from Dr. Martin Luther King Jr. and most other leaders of the era.
The day after conquering then-champion Sonny Liston and winning his first world heavyweight championship in 1964, Mr. Ali announced he had joined the Nation of Islam under the guidance of Malcolm X and had shed his ''slave'' name of Cassius Clay, shocking the country.
Three years later, he propelled the anti-war movement to new heights by refusing to be drafted into the U.S. military to fight in Vietnam. He was convicted of draft evasion, banned from boxing and stripped of his heavyweight title.
When asked about his stance on the North Vietnamese, Mr. Ali famously said, ''They never called me nigger. They never lynched me. They didn't put no dogs on me. They didn't rob me of my nationality, rape and kill my mother and father.''
His decision to stay out of the war later won a major decision from the U.S. Supreme Court upholding his position and wiping out his conviction, and with that, Mr. Ali had defeated what many saw as a racist system.
It would have been easier and more lucrative for Mr. Ali to keep quiet and go along with what many in white society wanted from him, said his longtime friend and sports commentator Howard Cosell. They wanted ''a white man's black man,'' Mr. Cosell once said.
Mr. Ali didn't do deference.
"I am America. I am the part you won't recognize," Mr. Ali said. "But get used to me. Black, confident, cocky; my name, not yours; my religion, not yours; my goals, my own; get used to me."