Squirrels, others commit to sports field upgrade
Fred Jeter | 6/24/2016, 9:56 a.m.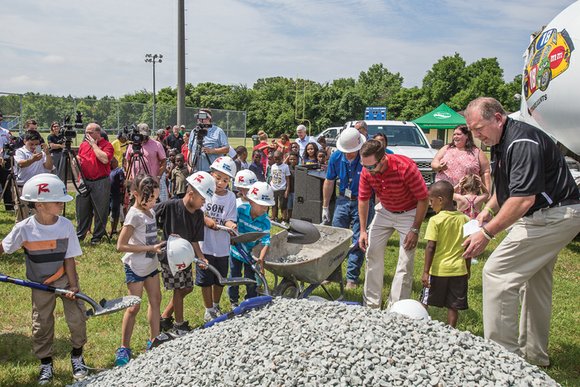 The neglected baseball field at Charlie D. Sydnor Playground at the J.H. Blackwell Community Center in South Richmond is overgrown with weeds and unsafe for organized games.
The uplifting news is that a dramatic transformation is in the works.
As part of "Renovating Richmond's Recreation," the Sydnor Playground diamond is one of several around the city in line for a major makeover.
Richmond Flying Squirrels Charities, the Barton Malow Foundation and Richmond International Raceway are teaming up to make a difference.
At an estimated cost of some $100,000, the three organizations plan to build dugouts, completely re-do the infield with new dirt and re-seed the outfield.
Groundbreaking ceremonies last Thursday at the community center drew Mayor Dwight C. Jones, City Council President Michelle Mosby, Todd "Parney" Parnell, the Flying Squirrels' vice president and chief operating officer, and "Nutzy," the Flying Squirrels' mascot, among other officials and participants.
For an added touch, a group of youngsters wearing hard hats christened the project with a few shovelfuls of dirt.
Judging from the looks of the playing field, no one has swung a bat there in a long time. Football bleachers are in the way in what would be short leftfield.
The Sydnor field is sandwiched between basketball courts and a football field and is designed for children 12 and under.
Providing hands-on labor in the joint project will be students with the Henrico County Vocational-Technical Education Foundation.
The field should be ready for play next spring in the Richmond Parks, Recreation and Community Facilities sports program.
Similar work is planned for later this year on a diamond at Bellemeade Community Center, also in South Richmond.
Other fields in line for upgrades include those at the Westover Community Center in South Richmond and Hotchkiss Field on North Side.
The community can contribute to the effort by attending the Richmond Flying Squirrels' game Aug. 12 at The Diamond. Some of the proceeds from the game, billed as "Field of Dreams Fest: A Night at the Diamond," will go toward the field renovations.
The Richmond Department of Parks, Recreation and Community Facilities operates a youth baseball program separate from the Metropolitan Junior Baseball League that is based at Summer Hill Playground for U-12 play in South Richmond and Henrico High School for older boys.
The MJBL, providing more travel options, will be taking four all-star teams to Chicago on July 18-23 for the Inner City Classic.
A third baseball organization in the city, Richmond Little League, is based at Byrd Park and St. Christopher's School. The Richmond Little League will begin participation in Little League District 5 tournaments later this month.