Clinton, Trump win Super Tuesday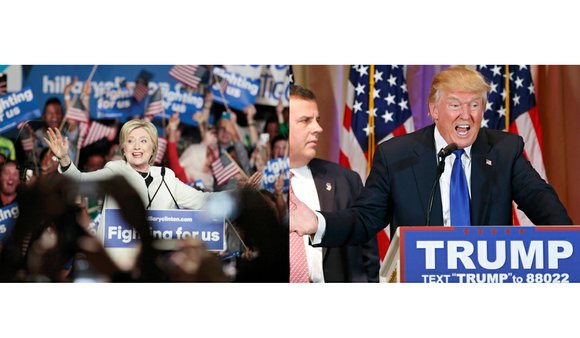 Super Tuesday proved super for Democrat Hillary Clinton and Republican Donald Trump.
The two front-runners each won seven of the 11 state primary contests this week, including Virginia — putting each on course to win their party's presidential nomination and face each other in a general election showdown.
Mrs. Clinton also scored big in delegate-rich Alabama, Georgia, Tennessee and Texas with strong support from African-Americans, women and older voters as she began to pull away from her rival, U.S. Sen. Bernie Sanders of Vermont. She also won narrowly in Massachusetts and handily in Arkansas, where her husband, former President Bill Clinton, was a longtime governor.
While Sen. Sanders won four of the state contests, he still trails the former secretary of state, New York senator and first lady in convention delegates who will choose the Democratic nominee. Sen. Sanders now is regarded as a long shot to pick up enough delegates in upcoming contests to catch her.
It's the same situation Mrs. Clinton faced in 2008 when she trailed then upstart candidate Barack Obama, but could never catch him.

Turnout was huge in Virginia and other states, often setting records. An estimated 1 million people voted in Virginia's Republican primary, a new record. About 780,000 people voted in the state's Democratic primary, second best to 2008. The total vote of nearly 1.8 million eclipsed any previous turnout for presidential nomination contests in the state.
According to national exit polls, Mrs. Clinton won 86 percent of the votes of African-American women and 81 percent of the votes of African-American men.

Richmond exemplified that support as she won by margins of up to 6 to 1 in predominantly African-American precincts. Mrs. Clinton won the city with 18,372 votes to 12,065 for Sen. Sanders, who scored his biggest wins in precincts heavy with college students.
He won contests in his home state of Vermont, as well as in Oklahoma, Colorado and Minnesota, but failed to blunt Mrs. Clinton's appeal with African-American and Latino voters, who are crucial to the party in presidential elections.
A self-described Democratic Socialist, Sen. Sanders, who has energized supporters with his calls for a "political revolution," has struggled to expand his base beyond young people and liberals.
While Sen. Sanders has vowed to stay in the race until the party's July convention, he is losing ground fast to his rival. Mrs. Clinton was assured of winning at least 457 of the 865 delegates at stake on Super Tuesday, while he was expected to collect 299 delegates, with the remaining still undecided.
Sen. Sanders' nomination prospects could be largely snuffed out should Mrs. Clinton do equally well in the upcoming stretch of 11 state contests. They begin Saturday, March 5, and extend through Tuesday, March 15, when primary voters in the key states of Florida, North Carolina, Ohio, Illinois and Missouri will have their say.
On the Republican side, Mr. Trump also extended his nearly insurmountable delegate lead as he held off U.S. Sen. Marco Rubio of Florida to win Virginia and six other contests.