Gun used to kill Trayvon Martin auctioned; is bid real?
Reuters | 5/20/2016, 8:10 a.m.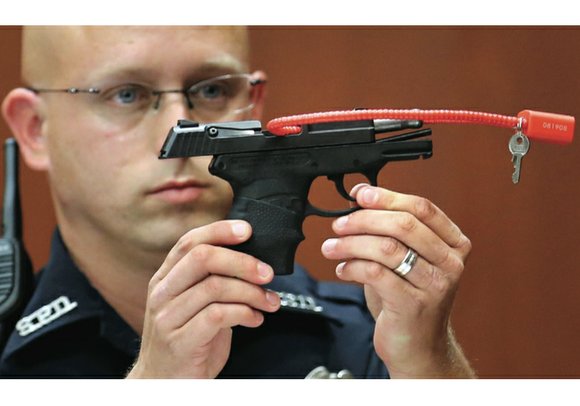 Online bidding for the gun used by George Zimmerman to kill unarmed black teenager Trayvon Martin in Sanford, Fla., in 2012 ended on Wednesday, although it was not clear whether the final offer of $138,900 was legitimate.
Mr. Zimmerman's offer to sell the Kel-Tec PF9 9mm handgun on UnitedGunGroup.com drew praise from gun rights enthusiasts and scorn from people who criticized him for seeking to profit from fatally shooting the 17-year-old.
Mr. Zimmerman was acquitted of second-degree murder and manslaughter charges in the fatal shooting, which sparked debates on race relations, gun control and American justice. It also provided a catalyst for the Black Lives Matter civil rights movement.
In a statement on Twitter after the bidding closed, United Gun Group defended its decision to host the auction. The group said it had run simultaneous auctions for the gun, one for pre-qualified buyers and another for the public.
"George Zimmerman has informed United Gun Group that he currently is in the process of vetting several offers and verifying funds," the statement said.
Mr. Zimmerman, who declined an email request for comment, said on his website that the "process of notifying the winning bidder will begin immediately."
"I would like to thank and give the glory to God for a successful auction that has raised funds for several worthy causes," he wrote.
He previously said he would use money from the sale to counter violence against law enforcement officers by Black Lives Matter, and to fight Democratic presidential hopeful Hillary Clinton's "anti-firearm rhetoric."
United Gun Group owner Todd Underwood said on his website that tools were used to keep bogus buyers from driving up the price as they had last week, when bids during an initial auction topped $65 million under names such as "Racist McShootFace."
The new auction began Tuesday. Minutes after it ended Wednesday, someone using the name "David Thorne" posted a comment claiming to have hijacked the bidding process once again.
"None of your bids are real," Mr. Thorne wrote. "I should know because they are almost all mine ... Racist McShootface strikes again!"
The final bid of $138,900 was made under the name "John Smith." The public auction listing was removed from the site about 10 minutes after it concluded at noon Eastern Daylight Time.
Another auction site, GunBroker.com, rejected the listing for the gun last week, and two of America's leading auctioneers of guns said they also refused to handle the sale on ethical grounds.