Bishop Tutu's daughter quits priesthood after gay marriage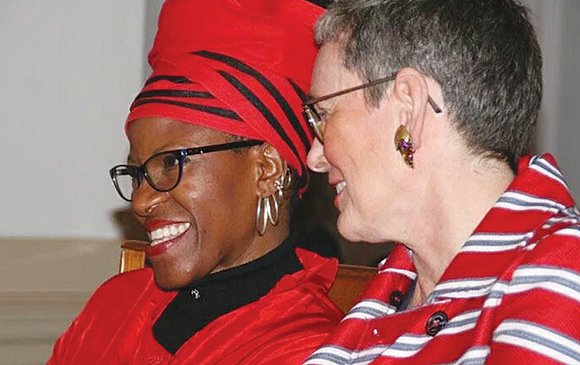 By Fredrick Nzwili
Religion News Service
The daughter of Nobel laureate Archbishop Emeritus Desmond Tutu of South Africa has given up her clergy credentials after marrying a Dutch woman.
Mpho Tutu told South African media that because her church did not recognize her wedding, she could no longer serve in the country.
Ms. Tutu said the church had instructed a bishop to revoke her license, which granted her the authority to preside at Communion, officiate at weddings, baptisms and funerals.
"I decided I would give it up to him rather than have him take it, a slightly more dignified option with the same effect," South Africa's City Press quoted her as saying in an online news story.
Bishop Tutu and his wife, Leah, attended their daughter's wedding to academic Marceline Van Furth at a wine estate in Franschoek, near Cape Town. The two first married in the Netherlands, Ms. Van Furth's home country, in December. The couple are on a honeymoon on the Indian Ocean island of Bali.
Although South Africa legalized same-sex marriage in 2006, the Anglican Church maintains that marriage is a lifelong union between one man and one woman.
In February, Archbishop Thabo Makgoba announced the church would consider new pastoral guidelines for same–sex marriage. Debate over sex-marriage has divided the worldwide Anglican Communion and the South African church will discuss the issue later this year.
Archbishop Makgoba permitted Bishop Tutu to give the couple "a father's blessing," Bishop Tutu told the City Press.
Ms. Tutu pointed out the ironies in their marriage to the City Press:
"My wife and I meet across almost every dimension of difference," Ms. Tutu told the City Press. "Some of our differences are obvious. She is tall and white, I am black and vertically challenged. Some of our differences are not apparent at a glance. She is Dutch and an atheist, I am South African and a priest in the Episcopal/Anglican Church.
"Ironically, coming from a past where difference was the instrument of division, it is our sameness that is now the cause of distress. My wife and I are both women," she said.
Both Ms. Tutu and her wife have been married before and have children.
Ms. Van Furth is a professor of pediatric infectious diseases at the Vrije Universiteit Medical Centre in Amsterdam and was designated as a "Desmond Tutu professor" when she was appointed in 2009.
Rev. Tutu, who now uses the name Mpho Tutu-Van Furth, is executive director of the Desmond and Leah Tutu Legacy Foundation in Cape Town.