VCU sharpshooters are best in Rams record book
11/19/2016, 11:18 a.m.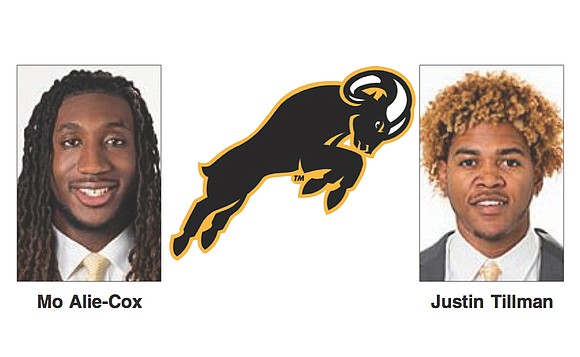 Call them the "Bullseye Brothers."
The two most accurate shooters in Virginia Commonwealth University basketball history are featured on Coach Will Wade's current roster, with a season that opened Nov. 11 with an 80-67 win over visiting University of North Carolina-Asheville.
Based on records dating to 1968, 6-foot-7, fifth-year senior Mo Alie-Cox and 6-foot-7 junior Justin Tillman rank No. 1 and No. 2, respectively, among the best shooting Rams of all-time, albeit from close range.
The Rams will lean on the twosome for inside scoring as they take dead aim on a difficult slice of their schedule.
After playing lightweight Binghamton University of New York at 7 p.m. Friday, Nov. 18, at the Siegel Center, VCU will fly to Paradise Island in The Bahamas to compete in the high-profile Battle 4 Atlantis during Thanksgiving weekend.
VCU will face Big 12 Conference powerhouse Baylor University on Nov. 23. Other universities competing in the three-day event continuing Nov. 24 and Nov. 25 are Michigan State, St. John's, Wichita, Louisiana State, Old Dominion and Louisville.
From Lorton in Northern Virginia, the powerful 250-pound, Alie-Cox began this season with a VCU best career .590 field goal.
Right behind him at .580 is Tillman, the springy Detroit native renowned for his theatrical dunk.
Before Alie-Cox and Tillman, the Rams all-time percentage leader was Bernard Hopkins (.571, 1994 through 1996.)
The Bullseye Brothers also rank No. 1 and No. 2 for single season accuracy.
Alie-Cox hit .612 last season; Tillman .603.
The previous single season leader was Bernard Harris, who shot .603 in the 1971-72 season.
Before an 84th straight Siegel Center sellout crowd of 7,637, the hot shooting continued in the Rams' opening win over UNC-Asheville as Alie-Cox hit 5 of 7 from the floor and scored 15 points, while Tillman hit 7 of 11 for 14 points. 
To be fair, Alie-Cox and Tillman aren't among the squad's better jump shooters and are not 3-point threats. Tillman has never nailed a VCU "trey" and Alie-Cox had just one as a freshman.
A year ago, VCU launched 716 3-pointers, making 255; Alie-Cox and Tillman accounted for one attempt (by Tillman) and no connections from the distance.  
Their glowing percentages are based on calculated shot selection close to or above the basket, and a wise game plan designed to get them involved.