Emmy Awards filled with color, politics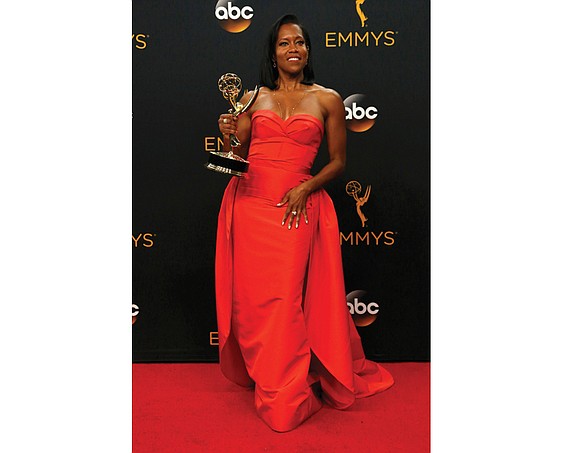 LOS ANGELES
Diversity ruled at Sunday's Emmy Awards, where a record 21 nominees of color were up for the annual awards for television and cable shows in contrast to this year's all-white Oscars acting lineup.
Several took home Emmys, many for the first time.
"The People v. O.J. Simpson," FX's 10-hour dramatization of the former football player's 1995 double murder trial and sensational acquittal won nine Emmys, including best limited series and awards for actors Courtney B. Vance and Sterling K. Brown.
The drama earned the second-highest number of nominations, with fan favorite "Game of Thrones" leading with 23 nominations.
Regina King won the award for supporting actress in a limited series for or movie "American Crime," her second trophy for the program.
Comedians Keegan-Michael Key and Jordan Peele were honored for their sketch series "Key & Peele."
Egyptian-American Rami Malek beat veterans Kevin Spacey and Liev Schreiber to scoop his first Emmy for playing a socially inept computer hacker in "Mr. Robot."
"Oh my God. Please tell me you are seeing this too," said a stunned Mr. Malek, 35.
Indian-American Aziz Ansari shared a writing Emmy with Asian-American Alan Yang for their comedy series "Master of None."
But Viola Davis of "How to Get Away With Murder" failed to repeat her 2015 best drama actress win, the first for a woman of color.
Jeffrey Tambor, who won best comedy actor for a second time for his role as a father who transitions to a woman in Amazon's ground-breaking "Transparent," called on Hollywood to make him the last non-transgender actor to get such a role.
F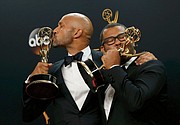 antasy drama series "Game of Thrones" and comedy "Veep" proved repeat winners for cable giant HBO, with "Game of Thrones" being honored as top drama for the second consecutive year and becoming the most honored primetime TV series ever.
"Veep" repeated as best comedy series, with its star, "Julia Louis-Dreyfus, winning a record-breaking sixth Emmy as best comedy actress for her role in the satirical White House comedy in which she plays a graspingly ambitious and inept president battling to stay in power. A shaking Ms. Louis-Dreyfus ended her speech by dedicating the trophy to her father, who she said died last Friday.
Sarah Paulson, who played losing Los Angeles trial prosecutor Marcia Clark in "The People v. O.J. Simpson," won for outstanding lead actress in a limited series. She brought Ms. Clark along with her to the Emmys.
"The more I learned about the real Marcia Clark ... the more I had to recognize that I, along with the rest of the world, had been superficial and careless in my judgment," said Ms. Paulson, accepting her first Emmy.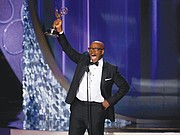 Host Jimmy Kimmel opened Sunday's show with a string of jokes about Republican presidential contender and former "Celebrity Apprentice" star Donald J. Trump.
"If Donald Trump gets elected and he builds that wall, the first person we are throwing over it is Mark Burnett," quipped Mr. Kimmel, addressing Mr. Burnett, the British producer who created "Celebrity Apprentice."
"Saturday Night Live" comedian Kate McKinnon, who plays Democratic presidential nominee Hillary Clinton, won supporting comedy actress, and John Oliver's biting "Last Week Tonight with John Oliver" won the Emmy for variety talk series.