VUU beats CIAA defending champ Winston-Salem State
Fred Jeter | 9/24/2016, 2:26 p.m.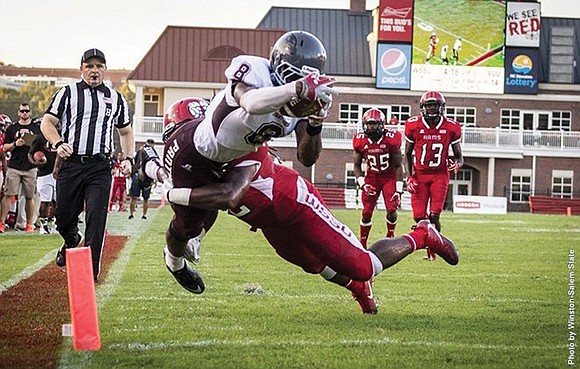 The clouds have parted, as least for now.
After two deflating losses, the Virginia Union University Panthers are heading to Fayetteville State University this Saturday, Sept. 24, with a victory under their belts and a smile on their faces.
Coach Mark James' squad is 1-2 after a rousing 37-14 win last Saturday against its longtime nemesis, Winston-Salem State University.
VUU's decisive win broke a six-game losing streak and marked VUU's first victory since 2002 at Winston-Salem State's Bowman Gray Stadium.
The Panthers dominated the defending CIAA champions, leading 27-7 at halftime while piling up 421 yards total in offense.
"We really didn't want to go 0-3 and that was our focus the whole week," said Coach James.
VUU attacked from all directions.
Quarterback Shawheem Dowdy hit 14 of 19 passes for 212 yards and two touchdowns before exiting with a knee injury described as "slight" by VUU officials.
Dowdy was replaced by former starter Kenneth Graham.
Transfer Jusse Yorke made 10 catches for 143 yards and two touchdowns. VUU's single-game receptions record of 12 was set by Stacy Graves in 1994 against Norfolk State University.
Yorke is from Boyd Anderson High in Fort Lauderdale, Fla., where Coach James coached prior to coming to VUU.
Yorke played at ASA College in Brooklyn, N.Y., and briefly was at Old Dominion University before joining the Panthers and Coach James on the Lombardy Street campus.  
William Stanback, fighting off a queasy stomach, carried 23 times for 119 yards and three touchdowns.
There was plenty of drama.
During the first quarter, Stanback ran to the sidelines and lost his lunch. Coach James called timeout, giving his star back a chance to recover. Stanback never missed a down. 
"The pregame meal was at an Italian place," said 6-foot-2, 230-pound Stanback. "I had grilled chicken and pasta and I guess I had too much."
A transfer from the University of South Florida, Stanback is second in CIAA rushing to Virginia State University's Kavon Bellamy, with 105.7 yards per game.
JeanClaude Brooks added a 44-yard field goal. The VUU field goal record of 48 yards was set by Hug Flores-Diaz in 2006 against West Virginia Wesleyan College.
Eddie Johnson, Karl Calhoun and Rodeshawn Joseph led the defense with nine tackles each. Joseph and Sterling Hammond made interceptions.
During the game, senior defensive back Michael Brown suffered a head-neck injury and was carried off the field on a stretcher. He was taken to Wake Forest Baptist Medical Center and did not return to Richmond with the team.
According to Jim Junot, VUU sports information director, Brown had "movement in all extremities; that doctors were waiting for swelling to go down before determining what to do."  
Also, running back Hakeem Holland suffered a "stinger" to the shoulder and played only briefly.  
Fayetteville State University is 0-3 after Division II losses to Chowan University (14-12), University of North Carolina-Pembroke (50-28) and last Saturday to FCS Elon University (26-3.)
The Fayetteville State University Broncos are in their first season under Coach Richard Hayes. He succeeds Lawrence Kershaw, who was 15-15 in three Fayetteville State University seasons, including 4-6 a season ago.
Coach Hayes was defensive coordinator at Winston-Salem State University from 2010 to 2015, helping the Rams to a 60-13 record and four CIAA titles.  
He is the nephew of CIAA Hall of Fame Coach Bill Hayes, who won 195 games at Winston-Salem State and North Carolina A&T State universities from 1976 to 2003.
VUU returns home to Hovey Field on Oct. 1 to face St. Augustine's University. The Panthers' homecoming will be Oct. 8 against Lincoln University.