MLB African-American managers square off in upcoming series
Fred Jeter | 9/30/2016, 8:05 p.m.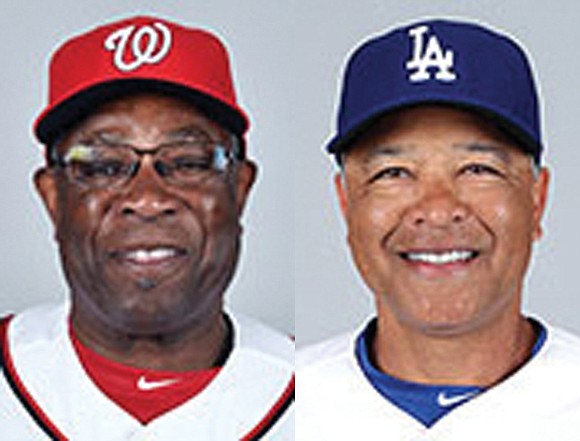 Major league baseball's lone African-American managers are on a collision course.
Both the Washington Nationals' first-year skipper Dusty Baker, and Dave Roberts, in his first season with the Los Angeles Dodgers, have guided their squads to division titles.
Baker's National League East champs open a best-of-five series against Roberts' NL West champs Friday, Oct. 7.
The victor of the Washington-Los Angeles series will advance to play the survivor of the Chicago Cubs-Wild Card series. The World Series opens Oct. 25.
Despite having African-American managers, the Nats and the Dodgers — like most big league clubs — are short on talent of color.
Only about 10 percent of major league players are African-American. However, that percentage jumps to nearly 30 percent when counting players of color from the Caribbean, Mexico and South America.
For the playoffs, Washington's "most likely to contribute" players are outfielders Ben Revere, Michael Taylor and Brian Goodwin. All may be in reserve capacity.
A featured slugger, All-Star catcher Wilson Ramos from Venezuela, suffered a knee injury Sunday and is out for the rest of the season. Another front-line Nat is infielder Anthony Rendon of Mexican ancestry.
Washington has an exciting pitching prospect in Joe Ross, although he has been hampered by injury and may not figure into the postseason.
The Dodgers' only starting African-American is versatile Howie Kendrick, who Roberts rotates at first base, second base and outfield.
A speedy backup outfielder is Andrew Toles.
Two Cubans, outfielder Yasiel Puig and catcher Yasmani Grandal, pack plenty of power.
The Dodgers' premier bullpen closer is Kenley Jansen from Curaçao. An up-and-coming starter is Puerto Rican native Jose De Leon from Southern University.
Early season outfielder sensation Trayce Thompson is out with an injured back.
This is the first managing assignment for Roberts, who succeeded Don Mattingly in Los Angeles. A military brat, Roberts was born in Okinawa, Japan.
Baker managed previously with the San Francisco Giants (1993-2002), the Chicago Cubs (2003-2006) and the Cincinnati Reds (2008-2013).
Baker guided San Francisco — featuring all-time home run champ Barry Bonds — to the World Series in 2002 before losing to the Anaheim (now the Los Angeles) Angels.
A native Californian, Baker played parts of three seasons with the Richmond Braves, then Atlanta's AAA affiliate.
Both Baker and Roberts have African-American first base coaches — Dave Lopes with the Nats and George Lombard with the Dodgers.
Lopes, who is of Cape Verdean descent, grew up in Providence, R.I. Georgia-born Lombard played with the Richmond Braves parts of four seasons. 
The only African-American manager to win the World Series was Cito Gaston in 1992 and 1993 with the Toronto Blue Jays.
The Texas Rangers' Ron Washington was the losing manager in both the 2010 (to the San Francisco Giants) and 2011 (to the St. Louis Cardinals) World Series.
In 2005, Venezuelan Ozzie Guillen directed the Chicago White Sox to the World Series title against the Houston Astros.
Major league's first African-American manager was Frank Robinson with the Cleveland Indians in 1975.
At the time, Robinson had the unusual status of player/manager. He didn't retire as a player until 1976.