Queen Harrison to host Queen Track Classic in Richmond for girls
4/28/2017, 12:53 p.m.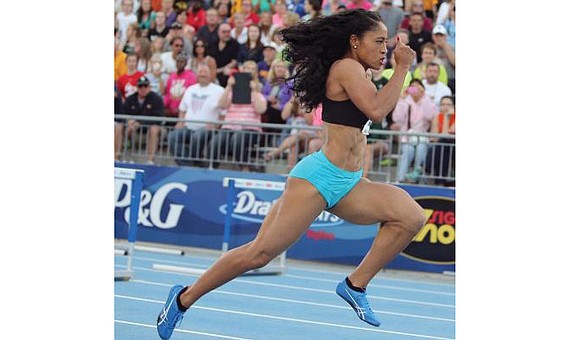 Girls will not only be the main attraction, they will be the only attraction for the inaugural Queen Track Classic, named for Queen Harrison, the former Hermitage High School track standout and 2008 Olympic runner.
The first area event of its kind exclusively for high school girls will be Saturday, June 10, at Sports Backers Stadium next to The Diamond on the Boulevard in Richmond.
Harrison is the sponsor and organizer of the event. After shining in track in Henrico County, she excelled in the sport at Virginia Tech and represented the United States on the 2008 Olympic team to Beijing, where she ran the 400-meter hurdles.
In a news release, Harrison explained, "Instead of pitting the boys against the girls, trying to get the same level of attention at meets, let's just remove the guys and see what it looks like and let these women know the people are coming to see them perform."
This unique competition will include 20 events and come one week after the Virginia High School League State meet and one week prior to the New Balance Nationals in Charlotte, N.C.
Field and running events will commence at noon. The final event, the 4x400 meter relay, is set for 4:30 p.m.
Sponsoring the event with Harrison is ASICS, the athletic equipment company, and MileSplit, an online track and field news service.
MileSplit plans to carry live video of the action online.
Harrison, who promises to be in attendance, says the girls showcase also will include food trucks, music and a "Fun Run" for elementary schoolchildren.
Many times as a Hermitage High Panther, Harrison dazzled at Sports Backers Stadium as a headlining hurdler, sprinter and jumper.
Harrison, 28, made history in 2010 by becoming the first woman in NCAA Nationals history to win the 100- and 400-meter hurdles at the same meet.
She was the Pan-American 400-meter champ in 2015 and narrowly missed making the 2016 U.S. Olympic team, finishing fourth in trials in the 100 meters.
Harrison is engaged to Will Claye, an Olympic silver medalist long jumper at both the 2012 and 2016 Olympics. Claye, who competed for the University of Florida, also won the bronze medal in the long jump at the 2012 Olympic Games in London.
Harrison has posted personal bests of 12.43 seconds for the 100-meter hurdles and 54.55 in the 400 hurdles and is very much in training for the 2020 Olympics in Tokyo.
Regarding her pioneering Queen Track Classic, she said, "It's not about not featuring the boys. It's about track and field uplifting and elevating women and having fun."