2 state troopers considered casualties
8/18/2017, 2:07 a.m.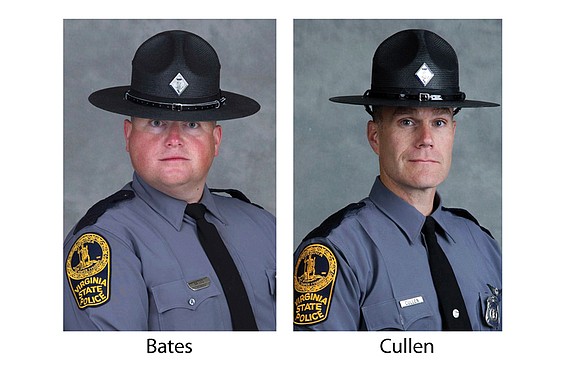 Two Virginia State troopers lost their lives in Charlottesville.
Lt. H. Jay Cullen, 48, of Midlothian, and Trooper-Pilot Berke M.M. Bates of Quinton were killed when the Bell 407 helicopter from which they were conducting surveillance during the white nationalists rally crashed shortly before 5p.m. Saturday in a wooded area near a residence on Old Farm Road in Albemarle County.
While State Police officials said no foul play was indicated, the crash is being investigated by the agency, along with the Federal Aviation Administration and the National Transportation Safety Board.
Both men were well-known to Gov. Terry McAuliffe.
"Berke was part of my executive protection unit. He was part of my family. The man lived with me 24-7," Gov. McAuliffe said Sunday during a church service in Charlottesville.
"I was close to both of those state troopers. Jay Cullen had been flying me around for three-and-a-half years."
Lt. Cullen, who was flying the helicopter at the time of the crash, was the commander of the State Police Aviation Unit. The veteran pilot routinely flew the governor to appointments around the state.
Lt. Cullen graduated from the Virginia State Police Academy in 1994 and joined the Aviation Unit in 1999. He is survived by a wife and two sons.
Trooper-Pilot Bates, who would have turned 41 on Sunday, Aug. 13, was recruited by the Virginia State Police from Florida, where he distinguished himself as a highway patrol officer by rescuing a young girl who had been kidnapped.
He graduated from the Virginia State Police Academy in 2004 and joined the Aviation Unit in July after an assignment as a special agent with the Bureau of Criminal Investigation. He also had served on the governor's protection detail.
He is survived by a wife and 11-year-old fraternal twins.
Both troopers are being considered casualties of the Charlottesville violence because they were on duty monitoring the protests from the air. — RONALD E. CARRINGTON