'Blind Side' subject cut from NFL team
8/18/2017, 1:42 p.m.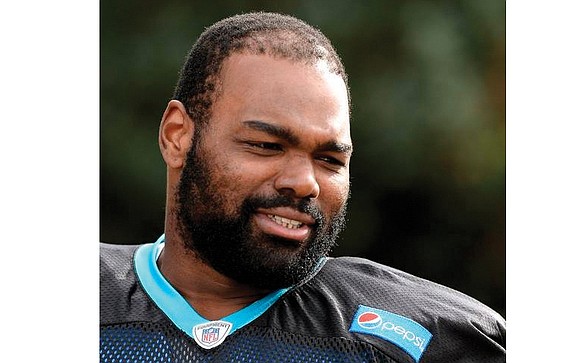 Special to Trice Edney News Wire
from NorthStarNewsToday.com
Michael Oher, who was the subject of the 2009 biographical feature film "The Blind Side," starring Sandra Bullock, has been cut by the Carolina Panthers.
Mr. Oher, who played left tackle, was cut because of a failed physical, the Panthers stated on the team's website.
Mr. Oher started the first three games of the 2016 season before a concussion caused him to miss the next seven games, resulting in the team placing him on injured reserve.
"The most important thing is his health," said Panthers Coach Ron Rivera, "Michael's health always came first."
Mr. Oher joined the Panthers in 2015 and started all 16 regular season games and three postseason games, helping the team get into Super Bowl 50. He also played with the Baltimore Ravens, helping the team win the Super Bowl following the 2012 season. He played with the Tennessee Titans in 2014.
In the film, Mr. Oher's character, played by Quinton Aaron, is a homeless and traumatized boy who becomes an All-American football player at the University of Mississippi. Ms. Bullock plays Leigh Anne Tuohy, who rescues Mr. Oher from the streets and moves him into her home to live with her husband and their children.
The movie raked in $309.2 million and Ms. Bullock won an Academy Award for best actress. But Mr. Oher said the film depicted him as football neophyte, subjecting him to ridicule from some NFL players.
Some critics blasted the film because of its whitesavior narrative.