First Monument Avenue Commission public hearing tense, raucous
8/18/2017, 2:24 a.m.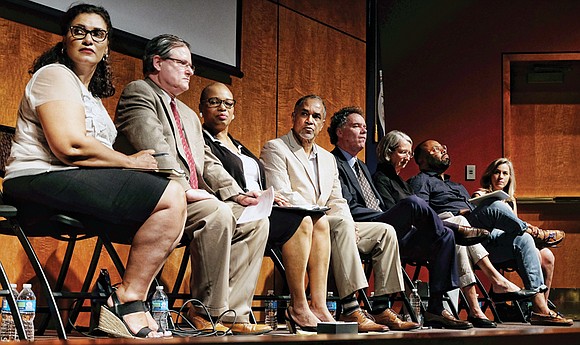 By Saraya Wintersmith
The Monument Avenue Commission's way forward remains murky following its tense and raucous first public comment meeting Wednesday, Aug. 9, at the Virginia Historical Society.
The commission posed two questions to the audience packed with more than 500 people — How do you best add context to the statues of Confederates on Monument Avenue, and what statues of persons or events would you like to see added?
About half of the 40-plus speakers allowed during the two-hour meeting spoke in favor of adding some kind of context to the five Confederate monuments along the city's tree-lined thoroughfare. The other half passionately asked that the statues either be taken down or left untouched.
Despite admonishment from Gregg Kimball, the commission co-chair and event moderator, audience members sporadically booed, jeered and interrupted the speakers. The speakers were selected through random numbers drawn by commission members. But as the comments became more fervent, the format was abandoned, and the audience became loud and raucous.
Jane Hoover said her maternal grandfather was one of many children who helped in the unveiling of the Jefferson Davis monument in the summer of 1907. She insisted the Confederate statues are all dedicated to honorable men.
"Remove not the ancient landmarks which thy have set," Ms. Hoover quoted from the Bible's Book of Proverbs. "Nobody publicly contextualizes or judges Maggie Walker, Arthur Ashe or the Lincoln monuments in Richmond. Who are you to publicly contextualize or judge Maury, Lee, Stuart, Jackson and President Davis' monuments?"
"Only the ignorant, uneducated people will look upon these statues as a hateful, racist symbol," said Kathleen Beilstein, who said the statues should remain untouched.
"If Mayor (Levar M.) Stoney has his way with the added context, I hope it will be beautiful plaques and not mar or degrade these bigger than life historic statues which represent our heritage."
But many speakers said the statues should be removed.
"I stand here on the backs of my ancestors who helped build Virginia. However, I do not see that reflected on Monument Avenue," said Thelma Brown.
The appropriate "context," she argued, belongs in school lessons, not on the monuments along the avenue. "They should go down. There's nothing heroic about it and it's painful to this day."
Pointing to recent rallies in Charlottesville by white supremacist and Ku Klux Klan groups to preserve Confederate monuments there, Fredericksburg resident George Knight said, "When we say we can avoid what's going on in Charlottesville by just letting the statues stay up, we're just saying, 'I'm too much of a coward to stand up to white supremacy and to stand up to racism.' "
He then chided Confederate supporters at the meeting for their deep affection for "participation trophies," and shouted, "Down with white supremacy!"
"We're cementing in this moment that one option was never considered," said Jaynell Pittman-Shaw of Richmond. "We just went straight to context. And I think by doing so, we eliminated a whole group of opinions (and) a whole group of constituents."