First Monument Avenue Commission public hearing tense, raucous
8/18/2017, 2:24 a.m.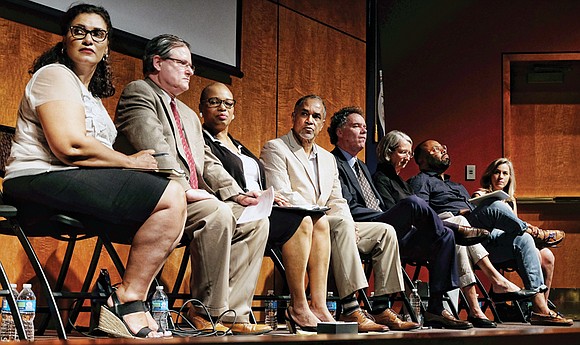 Mayor Stoney charged the commission with putting the statues "in context," leading many commission members and area residents to believe that removing the statues is not an option.
Dr. Kimball said the evening's charged atmosphere and emotional responses were no surprise.
"It's a very passionate topic. It's about our ancestors, and nothing's more personal than family," he said after the meeting.
He said he hopes more concrete ideas about context will emerge at the commission's next public hearing 6:30 p.m. Wednesday, Sept. 13, at the Virginia Historical Society, 428 N. Boulevard.
A handful of participants brought specific ideas for adding context to the Monument Avenue statues.
Benjamin Paul, who identified himself as a former Monument Avenue resident, said one way "is to acknowledge that (the Civil War) happened, and to acknowledge that it was about slavery and to acknowledge that that side lost."
A mixture of applause and groans emanated from the audience.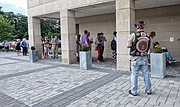 A woman who identified herself as a Monument Avenue resident, was moved to tears as she spoke in support of dedicating a statue to Richmond native and former Gov. L. Douglas Wilder, the nation's first elected African-American governor.
"Don't you see?" she said as the crowd snickered. "That was such an important moment when he was elected governor," she sobbed. "It sort of completes the story of Virginia."
Among the other suggestions were adding billboard-like signs with factual bullet points; adding a monument for African-American Confederate soldiers; and dedicating a separate row of monuments along the Boulevard to honor African-Americans.