Back-to-school backpacks, supplies and shoes giveaways slated
8/25/2017, 7:51 a.m.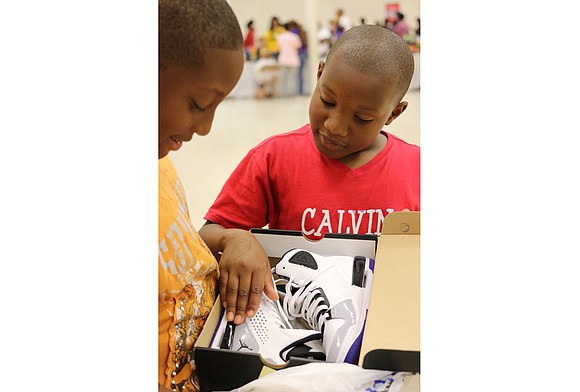 Several back-to-school events are scheduled to provide free school supplies and shoes for Richmond students who will start classes in less than two weeks.

Richmond City Councilman Michael J. Jones, 9th District, is hosting a school supplies giveaway for children in the district from 5:30 to 7:30 p.m. Thursday, Aug. 24, at the Southside Community Center, 6255 Old Warwick Road.
Mr. Jones hopes to provide 500 backpacks stuffed with items ranging from headphones and USB jump drives to traditional rulers, pencils and notebook paper.
Richmond rapper Young Prince Charles also is scheduled to perform.
Youngsters participating must be accompanied by a parent or guardian.
Information: Hope Elliott, Councilman Jones' district liaison, (804) 646-2779 or hope.elliott@Richmondgov.com.
A social group called the Divas of RVA will host a back-to-school rally from 3 to 7 p.m. Saturday, Aug. 26, at a member's home at 3410 Ryburn Road in the Davee Gardens subdivision in South Side off Ruffin Road.
Diamond Brown, spokeswoman for Divas of RVA, said the event will include "music, food and fun," along with a giveaway of bookbags and school supplies from Five Below discount chain. She said the event is open to the public without charge.
The annual Labor Day shoe giveaway for students in kindergarten through 12th grade will be held 8 a.m. to 4 p.m. Monday, Sept. 4.
Once again, there will be two distribution sites for the first-come, first-served event.
The site serving North Side will be familiar: Third Street Bethel A.M.E. Church, 614 N. 3rd St. in Jackson Ward.
The South Side site will be new: New Deliverance Evangelistic Church Annex, 1701 Turner Road in Chesterfield County.
A parent or guardian must accompany youngsters.
Fourteen churches and a synagogue have partnered for the 12th annual "New Shoes for Back to School" event.
The event, which originated through a women's ministry at Third Street Bethel, seeks to ensure that children can start school with a fresh pair of shoes.
Since it began in 2006, the program has given away nearly 75,000 pairs of shoes. Each September, about 4,000 pairs of shoes are available, according to Rita Willis, who started the project and continues to lead the event.