New Year's Eve celebration at Main Street Station
12/29/2017, 1:29 p.m.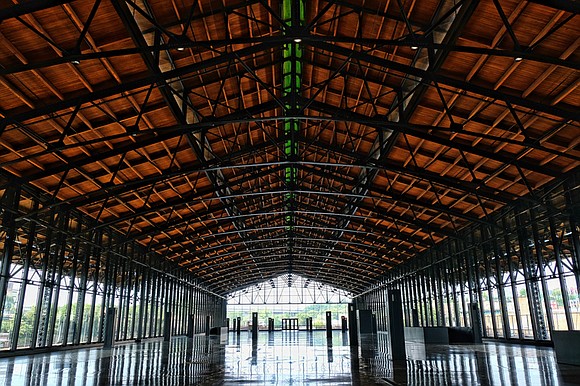 By Ronald E. Carrington
Richmonders can ring in the new year at "Le Masque 007 NYE Celebration," a New Year's Eve bash at the newly renovated Main Street Station and the glass-enclosed train shed in Shockoe Bottom.
The dress-up party, which will have a James Bond Casino Royale theme, starts at 9 p.m. Sunday, Dec. 31, and ends at 1 a.m.
While the event is privately sponsored by MR Networker Consulting LLC of Henrico, it is being promoted in part by the city in touting the $86 million renovation at Main Street Station. The Office of Mayor Levar M. Stoney emailed a press release about the event to media.
But Jeannie A. Welliver of the city Department of Economic and Community Development told the Free Press the city is not a sponsor and proceeds benefit the nonprofit organization Single Mothers United.
Tickets are $60 for general admission and $150 and $250 for VIP packages.
The celebration will feature performances by aerialists, casino-like games such as blackjack tables, roulette wheels and craps tables, DJ music and dancing and a fashion show by renowned designer Andres Aquino, founder and producer of Couture Fashion Week New York.
The evening will be topped off with special 007-themed surprises and a masquerade treasure hunt.
Marcus Jones, president and founder of MR Networker Consulting, said he selected Single Mothers United as the beneficiary of the event because of the support the Northern Virginia-based organization provides primarily to single moms and some single fathers.
The nonprofit was founded in 2010 and is in the process of expanding throughout Virginia and the nation, according to its website.
"For single, struggling parents, getting clothes and school supplies, as well as finding day care grants when the school year ends, is difficult," said Mr. Jones, who described himself as a single father. "SMU provides that support."
For details and tickets, go to www.lit4lyfe.com, www.showclix.com/event/LEMASQUE-007-NYE2018 or call (888) 71-TICKET.