Bourne sworn in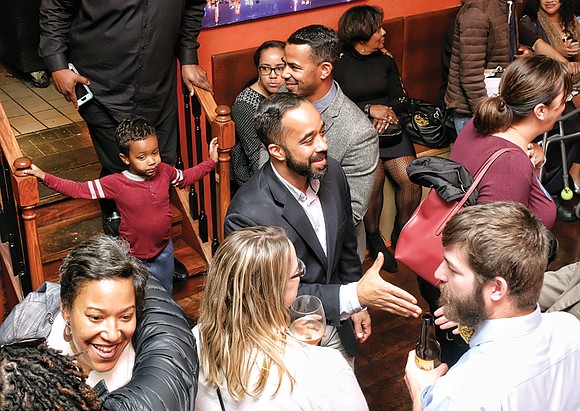 Jeff M. Bourne headed this week to the General Assembly as the city's newest representative to the House of Delegates, ending his four-year tenure on the Richmond School Board.
The 40-year-old lawyer was sworn in Wednesday and took his new seat after easily brushing aside two long-shot rivals Tuesday in a special election to fill the vacancy in the 71st House District.
The vacancy opened when Sen. Jennifer L. McClellan, D-9th District, who formerly held the House seat, won a January special election to the state Senate to succeed now 4th District Congressman A. Donald McEachin.
At his victory party at a Shockoe Bottom restaurant, Mr. Bourne thanked God, his supporters and his family and said his goal would be to help children who do not have the same support that his two children do.
"It is incumbent on us as public servants and as leaders of our community to make sure that they have every opportunity to succeed," Mr. Bourne said. "And so that's what's going to be my focus — public education and finding common sense solutions" to community problems.
Mr. Bourne, who entered the race as the presumptive favorite after securing the Democratic nomination with broad support and endorsements from virtually every elected area Democrat, won nearly 90 percent of the 3,950 votes cast, according to unofficial results for the district that includes 25 precincts in the city's North Side and East End and one precinct in Henrico County.
According to the state Board of Elections, Mr. Bourne, won 3,542 votes, while Libertarian candidate and schoolteacher John W. Barclay received 273 votes or nearly 7 percent. Independent candidate Regie D. Ford, a SunTrust mortgage specialist and past president of the Richmond Crusade for Voters, received 127 votes, or 3 percent.
Mr. Bourne immediately resigned his seat on the School Board. He has represented the 3rd Council District in North Side on the board since 2012 and easily won re-election in November over several challengers.
The School Board already is making plans to appoint a replacement and allow voters to elect Mr. Bourne's successor in November.
The newest member of the Virginia Legislative Black Caucus also immediately resigned as a deputy attorney general for transportation, real estate and construction litigation in the office of Virginia Attorney General Mark R. Herring, who supported Mr. Bourne's bid for the seat.
Mr. Bourne's arrival in the House means the chamber is once again at full strength with 100 members.
That means the 66 Republicans will have more difficulty in overriding Democratic Gov. Terry McAuliffe's vetoes of legislation. When there were 99 in the House, the GOP members, if they voted as a bloc, met the requirement of having the two-thirds of the House needed to override. With 100 members, it takes 67 members in the House to overturn a veto.