Brady does it again
New England comeback beats Atlanta in first OT Super Bowl
2/10/2017, 9:35 p.m.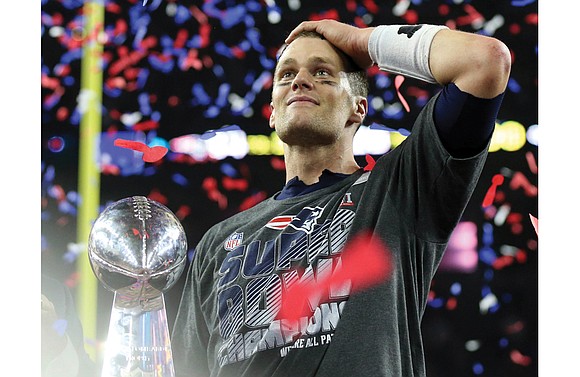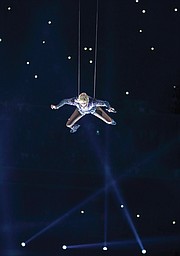 Lady Gaga plunged from the lofty roof of Houston's NRG Stadium at halftime to a platform far, far below.
Later that night, you had the feeling Tom Brady of the New England Patriots could have performed the same act — only with no bungee cord.
Hyperbole aside, Brady can't fly like a bird or even tap dance on water, but today, Brady ranks as the all-time crowned king of Super Bowl quarterbacks.
The 39-year-old, former sixth round draft choice now has one for the thumb — meaning championship bling — following New England's riveting 34-28 overtime victory over the Atlanta Falcons in last Sunday's Super Bowl 51.
After guiding the Pats to an improbable comeback of Grimms' Fairy Tales proportions, Brady has a fifth Super Bowl ring, passing Terry Bradshaw and Joe Montana who have four each on the victorious quarterback list.
Brady's fourth Most Valuable Player award earns him yet another record on football's grandest stage.
"We're taking this sucker back, (meaning the Vince Lombardi Trophy) back to Boston," Brady told the media after a postgame, on-field smooch from wife and model Gisele Bündchen.
The Patriots rallied from 21-0 and 28-3 deficits, running off 31 unanswered points in the fourth quarter and overtime.
"We all brought each other back," Brady told the press. "We never thought we were out of it. It was a tough battle."
Playing catchup throughout, Brady completed 42 of 62 aerials for 466 yards with two touchdowns and one interception, resulting in a pick-six for the Atlanta Falcons' Robert Alford.
The Super Bowl is the lone event that uses Roman numerals to document its history. Considering how Brady has become so synonymous with success in the grand finale, he might have won the right to change his jersey number from 12 to XII.
Few around New England would disagree.
With five Super Bowl titles, New England ties the Dallas Cowboys — and trails only the Pittsburgh Steelers (six Super Bowl wins) for championships in the 51-year history of the event.
Brady wasn't alone in the biggest comeback in Super Bowl history. Sharing honors was running back/receiver James White, who teammates call "Sweet Feet."
White had 14 catches for 110 yards and another 29 yards on six carries. The 5-foot-9, former fourth round draft pick scored three touchdowns, including the game ender on a 2-yard plunge four minutes into overtime.
A native Floridian, White was a teammate of Richmonder Russell Wilson in 2011 at the University of Wisconsin.
The first Super Bowl, on Jan. 15, 1967, saw the Green Bay Packers defeat the Kansas City Chiefs 35-10.
A total of 19 different franchises have won at least once. Atlanta, formed as an NFL expansion team in 1966, isn't one of them.
Champagne celebrations have been hard to find around "Hotlanta." The NBA Atlanta Hawks have never won an NBA title and the Atlanta Braves have just one World Series victory.
The Atlanta Thrashers never won an NHL title before folding in 2011. And the Atlanta Dream, formed in 2007, is still looking for its first WNBA championship.
On the other hand, Coach Bill Belichick's Pats have brought football's top prize back to Gillette Stadium in Foxborough, Mass., in 2002, 2004, 2005, 2015 and now this year.
Now as a five-time champ and his team's lead performer, Brady has tied Derek Jeter, who paced the New York Yankees to five World Series triumphs.
Only Michael Jordan, with six NBA titles, stands between Brady and the top of the heap of all-time, team sports icons in his lifetime.
History will show that in Houston in 2017, Brady rallied his team to a stunning comeback victory.      
Even more incredibly, perhaps, he upstaged diva supreme Lady Gaga in the process.