Receptions, other events mark Mayor Stoney's public inauguration
By Jeremy M. Lazarus
Congratulations and handshakes were the hallmarks of Richmond Mayor Levar M. Stoney's ceremonial public installation into the city's chief executive post.
He stayed busy shaking hands and accepting congratulations from hundreds of well-wishers, first at a $150-per-person luncheon last Friday at The Jefferson Hotel in Downtown, followed by a $100-per-person reception last Friday night at the Main Street Station and then again on Saturday afternoon at an open-to-all, no-charge reception at The Valentine, the Richmond area history museum.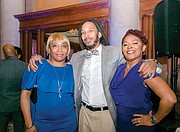 He was sworn in for a second time at noon last Saturday during a public ceremony at Richmond City Hall. Again, he used his late grandmother's Bible to take the oath of office.
Following the swearing in, Mayor Stoney gave an inaugural address focused on many of the themes from his campaign — setting high expectations at City Hall to improve government performance, working with the School Board and City Council to improve education and creating a thriving city that benefits everyone while lifting people out of poverty.
During the City Hall ceremony over which Virginia First Lady Dorothy McAuliffe presided, he recalled that during the campaign, many residents thought "I was too impatient, too young and should wait my turn," the 35-year-old mayor said.
But he's not interested in waiting or doing things the same old way, he said.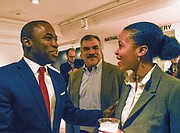 "I am impatient — and energized and excited — for a chance to build the one Richmond that will propel our success," he told the audience of about 300 people who filled the City Council chambers, ranging from Gov. Terry McAuliffe and elected officials from the city, Congress and the General Assembly to city employees, friends and family.
He said city residents also are impatient for progress, and he promised to work with City Council, the School Board and community, business and political leaders to "turn the anger and apathy into resolve and action."
He pledged to work on transforming the disarray at City Hall, asserting that the government, despite a stellar performance in clearing the recent snow, is not just "failing to measure up to expectations, it's a failure to set them in the first place. Today, dysfunction and inefficiency is the expectation. And worse, it has been accepted."
He said his goal is to transform City Hall "into a model public sector organization that our entire city can be proud of " and ensure that basic services are handled with excellence.
"Competence will lead to confidence," he said. "And these basic reforms will be the building blocks for our work in the coming years."
In an echo of his predecessor, former Mayor Dwight C. Jones, during his first inauguration in 2009, Mayor Stoney also promised to be a strong supporter of public schools.
"For Richmond to succeed," Mayor Stoney said, "we must renew our shared commitment to public schoolchildren and their families. Because I know — and you know — that for many kids, education is the only lifeline they have. That's what it was for me. It's more than a chance, it's the chance."
He promised that, with the help of nonprofit partners, the city "would look to expand" after-school programs and enhance the services that keep children "safe and fed and enhance their chance to learn."
He also promised to focus on economic development, workforce training and job access that "creates opportunities for Richmonders to pull themselves out of poverty."
"None of this will be easy," he said, in noting that City Council would be an important partner.
"The success of Richmond depends upon your commitment and our ability to work together for change and progress.
"Today marks the start of something new — a chance for Richmonders from all parts of our city to have a government that works for them. … We have an opportunity to erect new monuments … to the battles we will face and win as we forge a path together toward a new Richmond. Let's make it happen."