ICA opening delayed until spring 2018
7/7/2017, 9:44 a.m.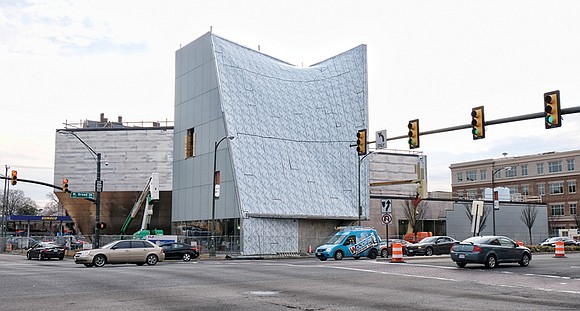 By Holly Rodriguez
The tall, angular building at Broad and Belvidere streets that is to become the Institute for Contemporary Art stands out on the Virginia Commonwealth University campus.
But the public will have to wait a little longer for its opening.
The initial Oct. 28 opening date, along with the institute's first exhibit, "Declaration," have been delayed until spring 2018.
ICA spokeswoman Carol Anne Lajoie said this week the process for getting the $41 million, 41,000-square-foot building ready for occupancy is taking longer than VCU officials expected.
Construction-related issues, including an HVAC system that is installed but not yet in full use, have delayed the opening schedule. She said more time is needed to properly prepare the building for occupancy and installation of art, adding that 12 weeks of stable climate control is needed before any artwork can be installed.
"The building is a piece of art and has to be treated as a gallery," she said.

"Declaration" will include 1,000 works of art installed throughout the building, rather than the classic model of art being displayed only in designated spaces in the building, she said. The material used in the art pieces can be damaged if proper temperature and humidity levels are not maintained.

Ms. Lajoie said delaying the opening was a tough call, but spring seems like the right time for the event, rather than hosting an opening in the early winter months of 2018.
"A huge block party is part of the opening, and it will be better in the spring rather than in the snow," she said.
The new date for the opening will be released in the next couple of months, she said.